This article showcases our top picks for the Best Office Manager Gifts such as Richard Stanley arts. We reached out to industry leaders and experts who have contributed the suggestions like getting a personalized 3d USB cable, within this article (they have been credited for their contributions below).
We are keen to hear your feedback on all of our content and our comment section is a moderated space to express your thoughts and feelings related (or not) to this article This list is in no particular order.
This product was recommended by Robert Banks from MrStocks
Scented candles started getting popular in this time not just for aesthetic cool vibes in the office and even at home but also because of the benefits it can give. It can really lift your spirit up when you're feeling a little under the weather. This particular scent, the Moroccan Fig, is my favorite. They also have ocean breeze, vanilla coconut and white jasmine. The packaging is also very unique and stylishly elegant. It's a nice, warm and cozy gift for a loved one.
---
This product was recommended by Susan Melony from Unbreak Yourself
A simple but elegant-looking desk organizer is one of the best gifts. This desk organizer does not have any excess accessories which makes it very efficient when it comes to space-saving. It is made of sturdy wood materials that come with a neat and plain black color.
---
This product was recommended by Eddie Jones from GS-JJ
PVC coasters are a common item in the office. This soft and stretchy PVC non-slip coaster is a simple and durable gift for office managers. We can design the coasters you need in any thickness, shape, and color, and even imprint the coaster with your words of appreciation to the leader. Custom PVC coasters are a good choice when you don't have an exorbitant budget.
---
This product was recommended by Stephen Curry from CocoSign
Office managers are some of the busiest people I know and having something to create a little humor in the office space all want. This item makes the perfect funny gift for colleagues, whether for a birthday or Christmas. It is a perfect-sized desk decoration made of wood, so you can be sure it is an excellent product. Give it to your office manager today, and you will see the charm develop at work.
---
This product was recommended by Arvie Narido from Gift Rabbit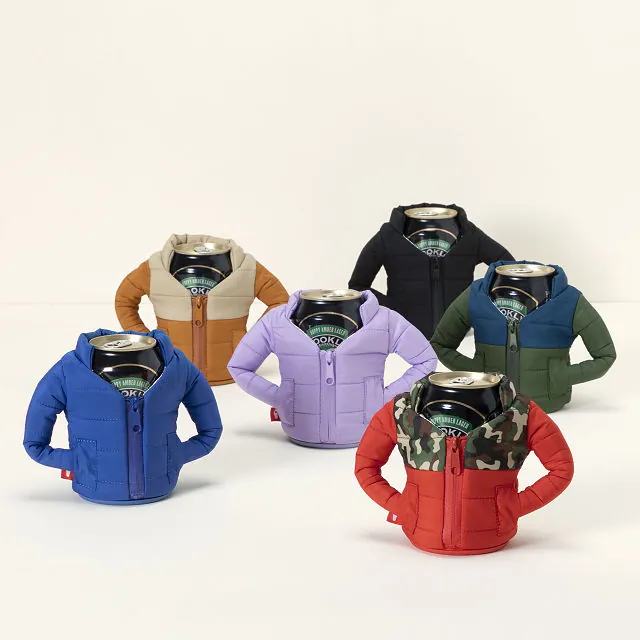 If your boss is an avid fan of sipping cold drinks (from beer to soda or even iced coffees), then this is the perfect gift for him/her. This unique puffer jacket has a metallic fabric lining inside which you can also find from lunch boxes or soft coolers so their drink stays cool for a longer period. Cans and bottles can perfectly fit and are super-insulated in this mini jacket. So if you are aiming to give a goofy yet thoughtful gift that your manager will surely love, this is definitely a must-buy.
---
This product was recommended by Lynda Le from Polish Perfect
Rest and relax maybe the words that are uncommon to every manager because they work so hard forgetting to pamper themselves. A back massager will be a great gift for office managers whether they are working from home or have gone back to the office. You can send this thoughtful and practical gift to your manager, as it will help soothe achy muscles from a long day sitting in their desk chair. This can deeply massage your neck, back, legs, waist, and shoulders.
---
This product was recommended by Chrizelle So from PainFreeWorking
This support has a lot of features to boot. It has a contoured structure that is the most ideal for optimal lower back back support, while boasting of a gel infused memory foam construction with holes strategically placed to provide cutting-edge comfort and cooling. The foam design of this support cushion is made with heat responsive technology and adjusts to the shapes and curves of your body to provide the best back support in all crucial areas. The heat responsive technology absorbs your body heat and then releases it in ventilation holes to allow the foam to compress. This U-shaped ergonomic design provides the best back support in all the areas you need it the most, especially your lower back, legs, hips, and butt.
---
This product was recommended by Cindy Corpis from SearchPeopleFree
This unique coffee or tea mug is the best gift for your office manager to remind them of having a cup of coffee to release their stress. This 11-ounce white ceramic mug possesses a large or easy-to-grip C-handle, both dishwasher and microwave safe. It implies the sublimation process makes the picture quickly permeate into the mug so that it doesn't get worn off. Each mug will be shipped in an eco-friendly box, ideal for gifting.
---
This product was recommended by Cindy Corpis from SearchPeopleFree
This leather portfolio offers the ultimate gift for your boss as it can secure what keeps them in business. Being the most well-equipped gift, it's highly protective of your internal confidential things and can safeguard those documents from rain, dust, snow, and water. Your boss will get absolute satisfaction because it's a quality product made of luxurious PU leather. You can offer the best contentment to the office manager as this product has a smooth zipper pull when they have to take some documents out.
---
This product was recommended by Michelle Devani from LoveDevani
With its sleek, elegant, and simple design, the Yamazaki Desk Bar Storage is a welcome addition to any work desk. Your boss will love having an accessory that brings personality and declutter their space.
---
This product was recommended by Michelle Devani from LoveDevani
We all need to destress once in a while, including our managers. Treat your office manager to a relaxing bath. It contains high-quality artisan soaps, bath bombs, soaps, and lotions, perfect for unwinding after a busy day at the office.
---
This product was recommended by Mariam Simmons from Alpine Swiss
The Sloan laptop backpack makes a great gift for any occasion for office managers thanks to its functionality, comfort, and superior materials. Stylish and functional, this backpack can store and protect your manager's essentials including a laptop up to 14.1 inches. Crafted with durable high-quality top-grain leather this backpack is perfect for a professional on the go.
---
This product was recommended by Usman Khan from Travel Skoolz
This is a motivational wall calendar with a watercolor forest theme. The calendar offers motivational quotes, doodles, and inspirational images that will brighten up any office room. The beautiful, hand-drawn artwork of the images will add a unique touch to any office. The large (12×15), twelve-month calendars offer beautiful imagery to look forward to each month.
---
This product was recommended by Stephen Light from Nolah Mattress
Your office manager is always on the go looking out for you, so why not gift them some comfort and relaxation this holiday season? This memory foam footrest fits perfectly underneath any desk and supports the feet, helping to ease the classic back and hip pain we get from sitting at a desk all day. The height is adjustable, conforms to your feet while staying malleable so you can roll your ankles, and it can be flipped to transform into a rocker.
---
This product was recommended by Becky Brown from ShoppingKim
This appreciation keychain with an uplifting quote about their leadership with an additional Thank You attached to it. It's such a simple yet awesome way to show appreciation for their leadership and effort. It's thoughtful, inspiring, and it simply works. It's a simple $11 gift with a powerful message, but it gets the job done. I'm a big fan of simple, unique gifts and appreciation keychain is one of the best ones, especially if you're on a tight budget.
---
This product was recommended by Gabriel Dungan from ViscoSoft
I think any gift that promotes mindfulness and relaxation is a great option for an office manager. Being a manager can be stressful, especially during a global pandemic. So why not help your manager find some more relaxation? The Muse S headband is the perfect way to begin a consistent meditation practice. It also monitors your heart, mind, body and breath, and uses this data to help improve your overall sleep quality. It's also incredibly easy to use, and comfortable to wear! Nothing will show your manager that you care more than getting them a gift that promotes their wellness.
---
This product was recommended by Gregory Yong from Convincely
For managers with a ton of different technological devices at their desk, having a centralized hub can be a real game changer. This docking station can connect with smartphones, tablets, and even hard drives to serve a variety of different needs. With this docking station, you can transfer data, charge your devices, and even connect peripherals to a laptop or desktop PC. This device is truly all-in-one, making it the perfect gift for any tech-minded manager.
---
This product was recommended by Shiv Gupta from Incrementors
When they're rushing from one Zoom to the next, their coffee frequently falls by the wayside. Make sure it stays at the correct temperature (read: warm) by giving your boss this mug that utilizes an app to control the temperature of their coffee or tea between 120°F and 145°F.
---
This product was recommended by Shiv Gupta from Incrementors
True, most diffusers are ugly. This artistic AF one, on the other hand, will transform the ambience of a place by spritzing relaxing essential oils over the environment. The aroma oil diffuser's lid is easily removable, making it simple to fill with water and a few drops of essential oil and savor the aromatherapy advantages. When the water content in your Essential Oil Diffuser is depleted, it will automatically shut down and protect your unit.
---
This product was recommended by Jordan McCreery from Ingrained Media
The GlocalMe U3 is Amazon's best selling portable WiFi hotspot that allows people to enjoy high speed internet connectivity anywhere they go with no worries of lack of coverage as often experienced with legacy mobile providers. No SIM card is needed thanks to the SIM-free intelligent network selection. The best office managers stay connected and on top of communications for their operation, the mobile hotspot helps ensure their communication remains uninterrupted whether they are traveling where the GlocalMe U3 works in over 140 countries delivering high-speed WiFi with smart local network auto-selection. The device provides up to 10 hours of battery life which can be used to update spreadsheets, review schedules, manage office communications or simply stream your favorite movies.
---