The total mobile services revenue in China is set to increase from US$119.1bn in 2020 to US$142.8bn in 2025, at a compounded annual growth rate (CAGR) of 3.7%, supported by 5G infrastructure, increase in mobile data consumption and rising data average revenue per user (ARPU), according to GlobalData, a leading data and analytics company.
GlobalData's China Mobile Broadband Model forecasts that mobile messaging revenue will witness significant downside and mobile voice revenue will see a steady decline over the forecast period. Mobile data service revenue, on the other hand, will grow at a robust CAGR of 8.5% between 2020 and 2025, driven by the rising average monthly data usage and adoption of higher ARPU 5G plans.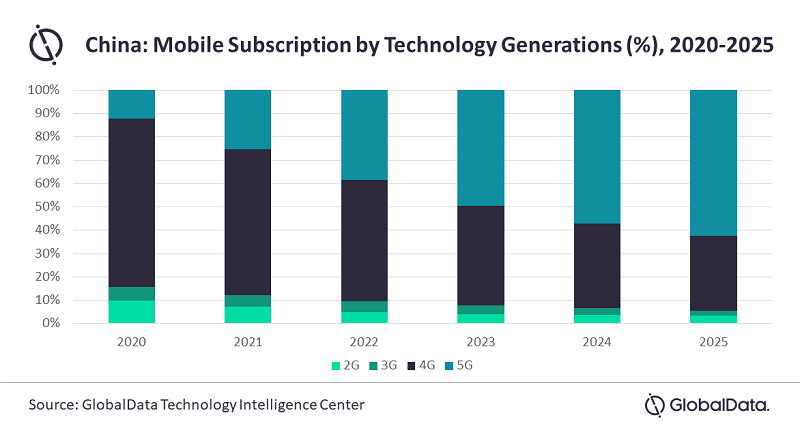 Antariksh Raut, Senior Analyst of Telecoms Market Data and Intelligence at GlobalData, says: "5G subscriptions in China are expected to witness significant growth from 2020 to 2025 (CAGR of 40.6%) and will outdo 4G in the total mobile subscription share in 2023, supported by the commercial launch of 5G by all the three state backed telecom operators, China Mobile, China Telecom and China Unicom."
Favorable government policies for the development of 5G infrastructure will increase M2M/IoT subscriptions, which are forecasted to grow from 175.6 million to 253.9 million, at a CAGR of 7.7% during the forecast period.
Mobile data services segment represents the largest revenue contributor to the overall mobile services market in China. Mobile data ARPU will grow from US$3.91 per month in 2020 to US$5.52 per month in 2025, driven by the increase in the adoption of higher ARPU 5G mobile service plans offered by operators.
Mr Raut concludes: "As one of the countries with largest 5G infrastructure already in place, China has turned the COVID-19 crisis into a big opportunity and the future outlook looks positive for the country's telecom market."