Best Conference Room Equipment
. We reached out to industry leaders and experts who have contributed the suggestions within this article (they have been credited for their contributions below). We are keen to hear your feedback on all of our content and our comment section is a moderated space to express your thoughts and feelings related (or not) to this article 
This list is in no particular order.
This product was recommended by Sherry Morgan from Petsolino
Communication, it's all about details. A smile or a gesture will let you know what others think and somehow, including how they feel. A successful meeting is not only about a perfect presentation but also to engage with people and build trust to create better collaboration. These 360 degrees all in one conferencing camera will help you achieve what you're aiming for. It encourages a smarter and more intuitive meeting experience especially for remote workers like myself. It allows you to communicate as if you were in the same room with the team, talking face to face. This camera will surely make everyone be visible and engaged, you won't miss a thing.
---
This product was recommended by Alex Mastin from Homegrounds
Especially in the post-pandemic era, where businesses are still being cautious when it comes to bringing large amounts of people together, it is likely that at least some of your team will be zooming in to get involved – but this can be quite difficult in a group setting where some are together and some aren't. The Owl Pro conference microphone is the perfect solution as it captures 360 videos, meaning any remote attendee can interact with each member of the meeting as if they are in the room with them, able to see and hear everyones discussion points, with the owl even giving automatic preference to the person speaking at any one time. We aren't sure when conference rooms will be all in person again, so in the meantime, this can be the next best thing
---
This product was recommended by Elena Rychyna from Airfocus
Online meetings keep growing in popularity and one of the most important elements for these is video quality. In order to ensure a quality video, you need to have proper lighting which is where this dimmable, video conference lighting kit comes to play. It is very easy to set up and gives a great, natural brightness to your video. It's designed in a way not to hurt your eyes if you look at it for a longer period of time. Plus, it is very affordable and easily clips on your laptop or a monitor.
---
This product was recommended by Erin Zadoorian from Ministry of Hemp
Cisco Webex, being one of the most well-known companies in the world, is a solid choice when it comes to selecting the best video conferencing equipment available on the market today. Plus, being one of the few manufacturers with its own video conferencing software, you can anticipate flawless performance from both its hardware and software components.
---
This product was recommended by Mohamed Sehwail from FullSession
Logitech conference room cameras are very easy to use since you don't need any additional software to install. It ensures a high-quality video and it can be accessed remotely. This makes it a great choice for the conference room, especially if more people need to fit in the frame. The camera has a built-in speakerphone and a quality mic that enhances the quality of the audio.
---
This product was recommended by Lynda Le from Polish Perfect
This highly functional yet budget-friendly conference room camera is an excellent value for the money. It can stream and record video with a clear picture. It also offers a noise-canceling microphone. Its built-in microphone is unidirectional. This webcam is also compatible with all Windows OS and streams videos at 33fps.
---
This product was recommended by Elaine from ONE POINTECH
The invisible wireless chargers on the tabletop can keep staff charged where they need it, right where they place their phones when they sit down in the conference room.
---
This product was recommended by Nicole Tiedemann from 11.international
The OBSBOT Tiny AI-webcam, the camera that moves when you move, is the perfect conference room gadget to help capture any virtual presentations or stream quality video of any meetings or company events. The camera will follow the user wherever they go, using deep learning neural networks to achieve AI tracking with auto-frame, it always keeps stable and smooth tracking, automatically keeping the subject framed, front and center! The easy to use camera works right out of the box! No setup required. Simply plug in the OBSBOT Tiny and begin to use! And controlling is just as easy, with simple gesture controls that empower users to access a series of functions like starting and stopping or zooming in and out! Not only easy to use, the OBSBOT Tiny includes features that help shoot quality video such as the ability to auto balance the exposure, brighten the camera in low-light and even include dual omni-directional microphones that can pick up sound from up to 10 feet away!
---
This product was recommended by Nick Chernets from DataforSEO
Tech development introduced all kinds of devices and gadgets that businesses need in order to operate and almost all of them require electricity. This round power grommet outlet is very useful as it has multiple plugs on it. It's easy to use and comes with a number of safety features that prevent it from potential breaks or fire. It's also tamper resistant which reduces the risk of electrical shock or injuries.
---
This product was recommended by Francis Locknear from TheCostGuys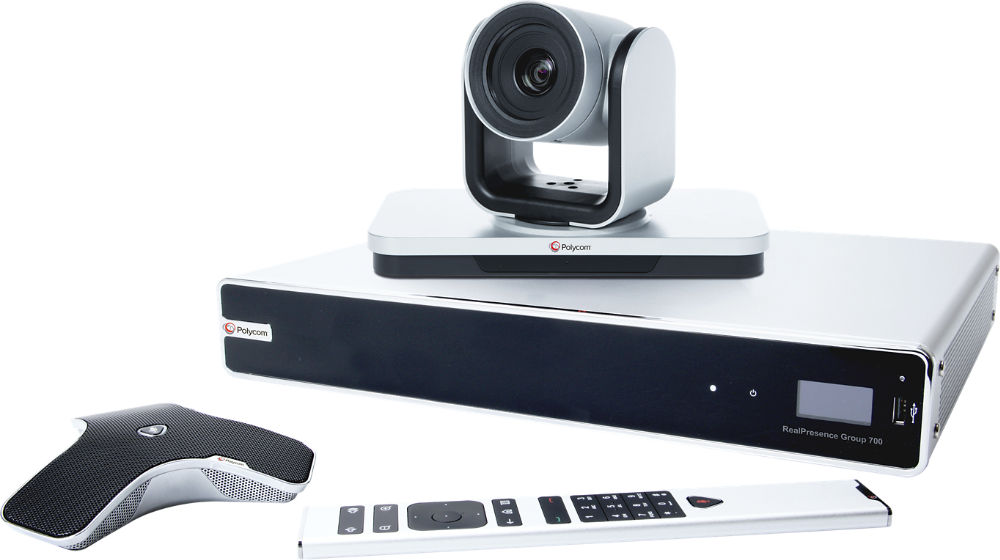 One of the most popular video conferencing equipment is Polycom. The company has been one of the largest pure-play collaboration companies for almost 30 years and is one of the most trusted brands in the world. As a business that recently moved 100% of their work remotely, we have tested and proven the capabilities of the setup. The setup comes with: – 700-1080 codec – Power supply – Cables – Remote – Polycom Group microphone – EagleEye camera We have used the setup's enterprise-grade video conferencing capability, top-notch audio, and other collaboration features. Our team enjoyed the facial recognition feature, the intuitive touch screen, and the Polycom Noisblock. The Poly RealPresence Group 700 has proven to be heavy-duty equipment that meets our requirements. It's simply an incredible tool that we feel every remote team should have.
---
This product was recommended by Justin Rule from Sparrow Websites
One of the best and most useful pieces of equipment we have in our conference room is the Samsung Flip. It is a digital board on which we can make notes and display projects. The 55 touchscreen allows us to share ideas and really get our creative juices flowing. Screen mirroring via NFC and HDMI makes it simple to bring up and edit old and new projects that the team is working on.
---
This product was recommended by Shiv Gupta from Incrementors
A comprehensive combination of classical designs, providing the ideal spot to gather employees. Manufactured from durable engineered wood with a strong steel frame, for extensive use in busy meeting, seminar, and conference environments. Easy to assemble and quick to complete. It's sturdy, semi-heavy with no issues. It limits the flexibility to move chairs around for more legroom size, but honestly, it does its job for the price!
---
This product was recommended by Shiv Gupta from Incrementors
This is created for convention amplified microphones which comprise a stable dynamic coil & high-quality gooseneck bend tube. The gooseneck is twisted into any position to meet the required angle and must keep its shape until bent again. It is a lightweight and flexible, Unidirectional Pickup & it highlights a flexible gooseneck and a 3-pin XLR male connector at the bottom.
---
This product was recommended by Philipp Zeiske from Zeitholz
Perfect for small conference rooms, the Logitech BCC950 is compatible with all major conferencing systems. The camera quality is simply superb thanks to the Carl Zeiss lens which offers crisp 1080p video quality. The audio quality is no less — everything is crystal clear on both ends of the line. All in all, a must-have for conference rooms.
---
This product was recommended by Sam Price from Heatable
This was probably the last piece of equipment a traditional team of office dwellers would have needed for their conference room. But now that so many teams are hybrid, this type of camera is a must. Unlike your regular cameras, this one gives you a 180° coverage, which means it will capture everyone sitting at the conference table. Note that you'll come across 360° cameras with much heftier price tags. But the thing is, you don't need those unless you are determined to position your camera in the middle of the table!
---
This product was recommended by Shannon Serpette from The Design Home
It's an essential piece of conference room equipment to have when some workers are still having to quarantine themselves or work from home. This webcam is affordable, but it keeps the lines of communication open between at-home workers and those sitting in the conference room. With a wide-angle webcam that offers a 120-degree view, every participant in the conference room can be seen at the same time, just as they would be if you were sitting in the room with them. The webcam has built-in noise-canceling microphones, and it's easy to install since it works with the leaders in video conferencing applications, like Zoom. All you have to do is plug it into a USB port and you're good to go — no need to call in the tech employees to help you set this one up.
---
This product was recommended by Mark Daoust from Quiet Light
This interactive whiteboard makes giving a presentation in the conference room a breeze. It is compatible with most presentation apps letting you choose the one that is best suited to your needs. Unlike other interactive boards like the Google Jamboard or the Microsoft Surface Hub2s, the Vibe Interactive board is capable of real time cloud saving and is thousands of dollars cheaper than it's competitors.
---
This product was recommended by Olivia Ainsley from RRP Diamonds
It is a big deal to have a conference table as it is a prominent spot for gathering and exchanging ideas within the organisation. A table with a metal base and ease of stability are the best for gathering people.
---
This product was recommended by Olivia Ainsley from RRP Diamonds
Assurance of the comfortability of the employees is the job of the employer or the company, to make them feel at ease while working and putting in the effort. Choosing the high back chairs could result in better sitting posture and increased attention towards work. This ergonomic chair for the employees can bring comfort to them and would ensure they're well being.
---
This article showcases our top picks for the