This article showcases our top picks for the
Best Corner Desk For Home Office
. We reached out to industry leaders and experts who have contributed the suggestions within this article (they have been credited for their contributions below). We are keen to hear your feedback on all of our content and our comment section is a moderated space to express your thoughts and feelings related (or not) to this article 
This list is in no particular order.
This product was recommended by Robert Banks from MrStocks
I've been using this desk for a while now and I'm really liking it so far. The large space on top together with storages for your things and papers in drawer shelves and open shelves is a great feature of this desk. It's a perfect desk for those who also have a lot of things to store and it's extremely stylish for a home office desk. I managed to quickly assemble the desk thanks to its easy to follow manual and this can be assembled to be on your right or your left depending on what you need as the design can easily be reversed.
---
This product was recommended by Amit Raj from The Links Guy
Corner desks are hard to come by at the moment due to shifting to home working but this SHW, corner desk from Amazon is a nice choice. Available in three finishes, this desk is fantastic value for money and with over 13K reviews it can't be bad! Easy to put together, with plenty of legroom, if you're looking for a desk on a small budget this is the one for you.
---
This product was recommended by Stacy Lewis from Eternity Modern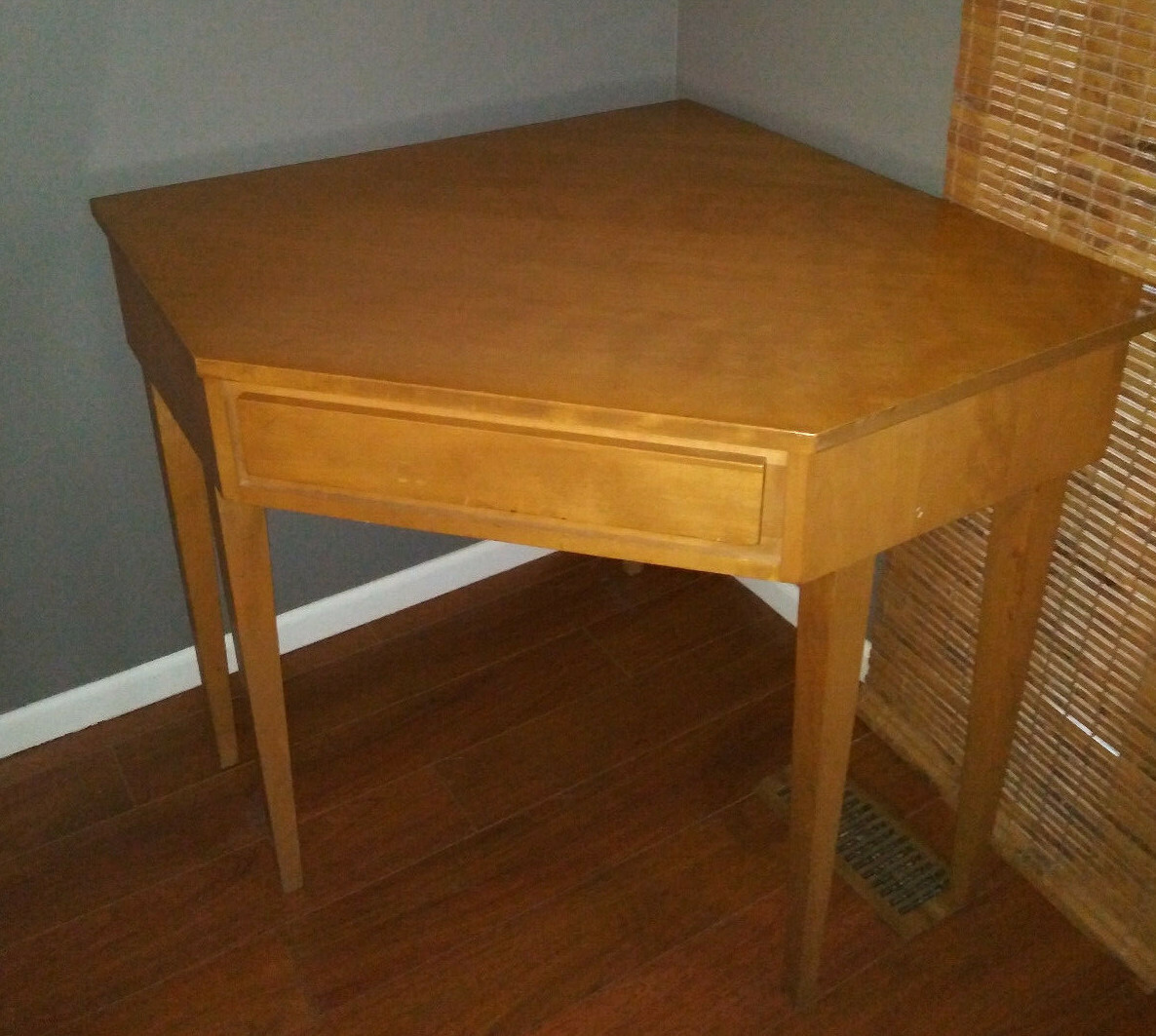 If like me, 99% of your work can be contained in a single laptop computer, then there's really no need for a traditional, L-shaped corner desk in your home office. Designs like this embody the mid-century modern aesthetic as they are unobtrusive and blend quite nicely with any mid-century modern furnishings. Plus, it is a massive space saver for people who literally have a little corner in their bedroom or apartment to serve as their home office.
---
This product was recommended by Kate Diaz from Swanky Den
The L Shaped Desk Gaming Desk Home Office Desk Computer Desk with Round Corner, Large Monitor Stand is for those who want a corner desk for their home office. The design of the desk provides ample room so you can have your computer tower on one side of the desk and have all your other items on it as well. The other advantage to this particular desk is that it also has a place to put your printer. Many people are looking for a corner computer desk that has round corners.
---
This product was recommended by Scott Hasting from Betworthy LLC
This L-shaped desk is perfect for the corners of the room. My favorite thing about this table is its Life-and-Lock Feature wherein the tabletop can be lifted at three different positions so you can work standing up. It can also be easily returned to its original state so you can return to working while sitting down. It also has a file drawer and a box drawer to keep your documents and other things safe and organized.
---
This product was recommended by Craig Miller from Academia Labs LLC
This L-shaped computer desk is made of double-wide solid, environmental-grade wood. It is spliced into three boards that are easy to assemble around the room corner. It also has a wide space for your computer and allows you to do other activities. Aside from that, it also has an extra PC holder so it doesn't take up space on your tabletop. The X-metal frame design also ensures durability and sturdiness so you won't have to worry about crashing tables.
---
This product was recommended by Nunzio Ross from Majesty Coffee
Bush Furniture has never disappointed with the style, quality, and value of their items, so it's no exception that their Reversible Corner Desk from the Wheaton Collection is the same. This desk adds a lot of character to my home office simply because you can orient it however you like. You can position its pedestal attachment to either side depending on your mood! It comes with two drawers and two cubbies, which can fit and protect your old books and documents. It also conveniently squeezes into tight corners, so your room size may not be a huge issue.
---
This product was recommended by Lisa Richards from The Candida Diet
I've always been a fan of a minimalistic home office setup, and Kings Brand White Corner Desk perfectly fits the ambiance and feels I want. If you aren't sold with the classic white color yet, its functionality and size may help you decide. Despite its size, it can fully function as a laptop desk. Moreso, it gives the room a more spacious feel. You can fit your essentials in it just fine in its small drawer. And these are all packed in the desk's affordable value.
---
This product was recommended by Olivia Tan from CocoFax
I recommend the Tangkula Corner Desk because it is made of wood and can be used as a computer desk as well. It comes with a built-in drawer and is ideal for placing decoration items and also works perfectly as a bookshelf. The sturdy and durable design of the desk makes it one of the top-rated ones on amazon.
---
This product was recommended by Olivia Tan from CocoFax
Hoatian has come out with a floating desk that can easily be installed into the tiniest of corners and make it into a workspace. It's ideal for homes with very little space, and it keeps the floor free to place other stuff. The Hoatian corner desk with a drawer allows for more storage because it has storage shelves. The desk is made of engineered wood and comes in white. White corner desks have always been trendy, so get that before the stocks run out.
---
This product was recommended by Nicolas Holand from GooseSmurfs
This is ideal for people who work from home because it has a large space enough for any home office essentials. You can literally put multiple things, paper works, and other devices that's needed for office tasks on a daily basis. Thus, if you're looking to buy a corner desk, this is one of the best options for a one time investment. It's also made with high quality materials that will surely last for a long time.
---
This product was recommended by Emily Appelbaum from Family Destinations Guide
I got this corner desk a few months after we started working remotely last year. And this desk actually puts a modern spin on a traditional corner desk. Since I'm taking into consideration the space that I'll be using as a working area, this desk is a perfect fit. It is 51-inches long and made from tempered safety glass on a steel frame. What I like more is that the L-shape can also be disconnected to create two desks. This is great especially when I want to change up my space often to gain focus. Although it doesn't have storage space, it still feels spacious and roomy because of the massive space that it has. The desk also has this minimalist vibe that fits me perfectly.
---
This product was recommended by Jamie Penney from My Home Dwelling
Having an ergonomic workspace was never something that crossed my mind until I began working from home. Long hours sitting in an old office chair nearly ruined my back in a matter of weeks, I said enough was enough. I researched a few things and found what was called a sit/stand desk, you can choose to sit or stand at your desk. I thought that was pretty cool. I found a few options online, but the Bekant from Ikea was available near me at the most compelling price. I jumped in my truck and made it to Ikea. I checked out the desk in person at their store, sometimes Ikea furniture isn't top-notch quality so I wanted to take a look. However, this desk is probably the best I have seen yet. The legs are solid metal hydraulic lifts that move up and down by the click of a button. It was available in multiple colors, I would only recommend the veneer finish, the other plain options do not seem durable in comparison. Anyway, I am suggesting this desk because it has exceeded my expectations. I have been extremely comfortable working at this desk. I have owned the desk for over 2 years now and it looks and feels exactly how I purchased it. Plus, it is huge… like you can fit a ridiculous amount of stuff on this desk. I have a 28-inch monitor that looks small on the desk, I have 2 large speakers, a lamp, a real plant, a MacBook, and a basket for papers with a lot of remaining space. There is plenty of room for whatever you are looking to set up.
---
This product was recommended by Imani Francies from Home Insurance Reviews
The Tangkula Corner Desk is sleek and modern, with a triangle form, open shelves, and a storage space. It's ideal for corner areas because of its 90-degree design. With its tiny size, this model is ideal for use as a receptionist desk in a dorm, office, or any other compact room. This corner desk is small but versatile, helping to make use of all your square footage. This corner desk is composed of strong wood and comes in a variety of coatings, allowing you to match it to the aesthetic of the area in which it will be used.
---
This product was recommended by Imani Francies from Home Insurance Reviews
The GreenForest L-Shaped Corner Desk is ideal for video games at home or in the office. This desk is not only gorgeous, but it is also environmentally responsible since it is made of environmentally friendly P2 particle boards, which help increase the longevity of your desktop. The particle boards resist moisture, are scratch-resistant, and do not readily tear. Up to three PCs and other devices can be used in the large work area. The adjustable foot cups give stability to your workstation, allowing you to play games or work without discomfort.
---
This product was recommended by Cathy Mills from Net Influencer
Since I work from home this corner desk has been the key to more organization and productivity in my office. Desks are phenomenal for improving your work efficiency, since they allow you to organize all your things, keeping important notes, and having specific storage for everything.
---
This product was recommended by Jake Smith from Absolute Reg
If you are working in a remote environment and would like to maximize your office space, this corner desk is a must-have. It comes in two neutral colors, black and white – a perfect way to keep the elegance of your room. The design is minimalistic, but it includes a drawer where you can put in some of your important work documents. Lastly, it's easy to assemble, and since its main component is wooden, it is not prone to rust.
---