This article showcases our top picks for the Best Executive Leadership Books. We reached out to industry leaders and experts who have contributed the suggestions within this article (they have been credited for their contributions below).
We are keen to hear your feedback on all of our content and our comment section is a moderated space to express your thoughts and feelings related (or not) to this article This list is in no particular order.
This product was recommended by Wendy Appel from Trilogy Effect
Author and leadership development expert Wendy Appel has transformed her professional experience and intellectual insights into a framework for leadership and team development that are captured in this book. She drew on twenty years of study and work with the Enneagram to bring ancient, personal, and practical wisdom to leaders and their teams to navigate the current world situation.
---
This product was recommended by Niki Gallagher-Garcia from Employee Fanatix
The 7 Intuitive Laws of Employee Loyalty is a guidebook of implementable tactics and skills for organizational leaders looking to curate a positive culture that engages and inspires their teams to do their best work. Author Heather R. Younger, J.D., examines and illuminates 7 laws that will put any leader in the driver's seat to create a more engaged and loyal staff. Want to positively move the needle on your employee engagement numbers? Embrace the laws found in this book to create employee loyalty and catapult your organization!
---
This product was recommended by Susan Stitt from Morgan Street Media Services
In UNSTUCK, Craig Lemasters shares techniques he has used in a lifetime of helping Fortune 500 companies fill their knowledge gaps – using reciprocity, strategic planning, rapid cycle learning and make-it-happen coaching through direct connections with enlightened resources. The wisdom in this book is valuable to far more than Fortune 500 executives. We all get stuck sometimes, writes futurist Rita J. King in her introduction to the book. Community leaders, teachers, networkers, entrepreneurs – and anyone who works with others in companies and organizations – will find powerful tools in these pages. Craig makes that promise in his dedication page: to everyone who feels stuck. He addresses all of us throughout the book.
---
This product was recommended by Melanie Musson from AutoInsuranceCompanies
The best executives get the most out of their employees. Leadership is about bringing the best out of others. This book compares executive leadership to coaching and gives the reader practical advice on how to help your team work together and make your business skyrocket. The author draws on what he's learned from over 10K business leaders and mixes that valuable information with the expertise of neuroscientists. It's a fascinating read that will help you improve your game.
---
This product was recommended by Bruce Harpham from BruceHarpham
As an executive, you've probably already read plenty of good books on strategy. Now, you need a roadmap to make consistent progress toward achieving your goal. That's where "4 Disciplines of Execution" makes a tremendous impact. In particular, the book's recommendation to focus on leading indicators is very powerful.
---
This product was recommended by Chantay Bridges from Bridges Publishing House, LLC
This entire books premise is written on empowering others, especially women.. Lead like a woman helps you to gain confidence, navigate obstacles, positions you for success whether you are in the board room or kids room. It's a road map with many directions and signals on the inside. If you are lost and don't know which way to go, this book will truly inspire you in the right direction.
---
This product was recommended by Bridgit Dengel Gaspard from KissingLions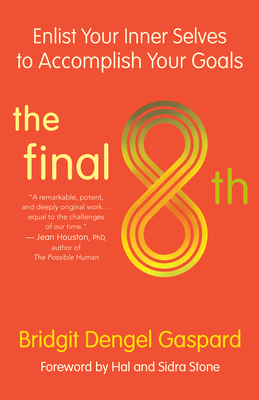 In Bridgit's own words, The Final 8th refers to the dilemma of being mysteriously stuck in front of the finish line. Dedicated, smart, talented executives with marvelous and varied skill sets get frustrated, and even demoralized, when they can't use their tried and true techniques to break through. But what's tripping them up can't be addressed through strategic planning! 'The Final 8th: Enlist Your Inner Selves to Accomplish Your Goals' is a brand new book introducing a revolutionary way to dialogue with different parts of yourself, also called alter egos, that have competing agendas. You think you want your goal with every fiber of your being, but the secret is not every part of you wants your goal—and for very good reason! And that means every part — the Inner Critic, the Avoider, the Anxious One, the Procrastinator. In the Final 8th process you discover the wisdom, strategies and fears of your different alter egos. When you deal with these concerns directly, you're empowered to enlist the inner selves with the precise superpower best suited to accomplish your goals. Especially in today's rapidly shifting world, with uncertainty spiking world-wide, the secret is to have the strength to access different parts of yourself, as it's not always your inner super hero that's needed to get the job done right.
---