This article showcases our top picks for the Best Office Chairs For All Day Sitting. We reached out to industry leaders and experts who have contributed the suggestions within this article (they have been credited for their contributions below).
We are keen to hear your feedback on all of our content and our comment section is a moderated space to express your thoughts and feelings related (or not) to this article This list is in no particular order.
This product was recommended by Erik Pham from Health Canal
Hbada Ergonomic Office Recliner Chair is something worth trying out. It's a little pricey compared to normal office chairs but it's worth it if you want to say goodbye to back pains and have a much better time working all day. It has an ergonomic recliner that tilts back to the ideal position bringing comfort to both your back and legs. The chair features full adjustability with its height, lift, locks, and tilt so that its users can find the best position to use. The ergonomic chair also features waterfall seat cushions that helps reduce the stress on your legs. You'll love the built-in lumbar support for both your neck and waist ensuing that you can spend more than 8 hours a day at work, Lastly, the office chair has a breathable mesh that promoted air flow through your backs so you won't worry about sweat getting on your back if you live in particularly hot climates.
---
This product was recommended by Allen Conrad from Montgomery County Chiropractic Center
The Saly office chair is durable, comfortable, and well made. Intended for those who will be sitting for long periods of time, the Saly provides what most people are looking for in a reliable office chair. At about $500+ for the chair, the budget may be too high, but those who have it are very happy with their choice.
---
This product was recommended by Michael Rewers from Lofty-Home Concept Store
Why do I recommend this product?: – relieves hip pressure (really works) – adjustable lumbar support helps me keep my back straight – fully adjustable – comfortable – headrest support – good pricing
---
This product was recommended by John Peterson from Safe Drive Gear
This basic chair offers ergonomic support for a fraction of the price of those around. It comes with a breathable mesh back, thick mesh seat cushion and a variety of colors – I chose the grey. It is height-adjustable and has a 360-degree swivel for great mobility. The seat cushion is six inches thick and allows for one-touch adjustments. I believe this is a lot of chair for the price, I had back problems with my dining room chair with a cushion, so this really helps.
---
This product was recommended by Marc Bromhall from Surf Gear Lab
It's got a double-padded back area which means I can sit in it for long periods of time without feeling uncomfortable. It rotates 360 degrees, and has a height adjuster and flip up arms allowing complete customization. I honestly prefer a full leather chair like this one to the modern mesh chairs.
---
This product was recommended by Matt Pierce from ChairOffice
The Ergo Sit High Back is a fully complete ergonomic powerhouse of an office chair built specifically for intensive 24-hour use. Featuring independent seat and back angle adjustments along with a height-adjustable backrest with a pump lumbar function to give you the optimal sitting position tailored to you. Onto the backrest, a headrest is fitted that is also height adjustable and tilts forward and back ensuring you receive correct neck and spinal support. Approved by a UK chiropractic doctor, the Ergo Sit looks after you while you work.
---
This product was recommended by Richa Nathani from Dialed Labs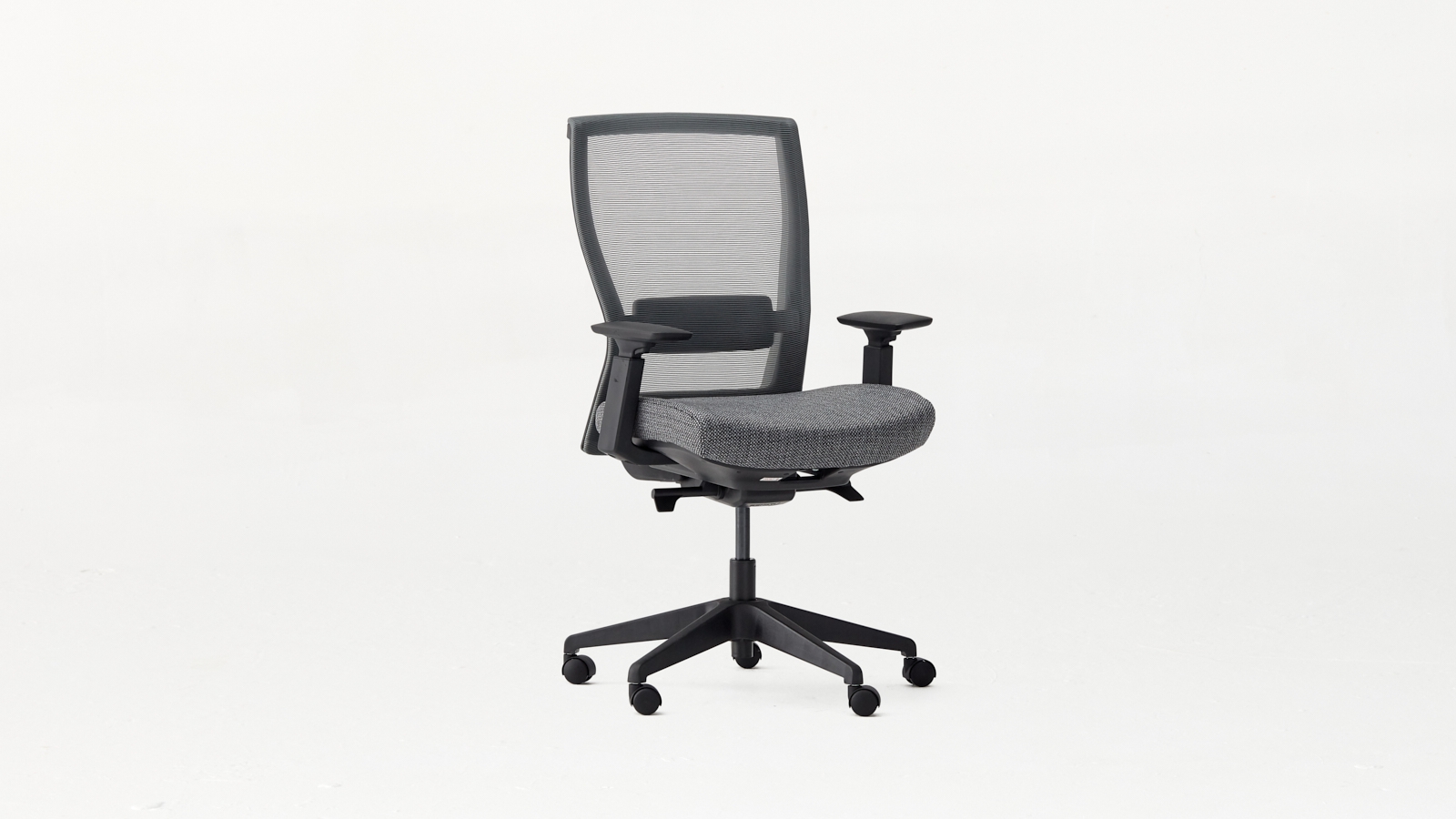 There's absolutely nothing more that I love about my workstation than this impressive ergonomic chair. I stumbled upon it by chance while diving deep into forum reviews and I haven't looked back since. Adjusting everything from the headrest to the seat tilt is a breeze, the lumbar support is stellar and the leg rest just takes your daily comfort to a whole new level. If you spend a lot of time in front of the screen, this is the chair you need.
---
This product was recommended by Jonathan Cohen from Cohen & Winters
I love the HON Ignition 2.0 desk chair. It is supportive, comfortable, and adjustable and the best part is that it is way cheaper than some other high-end desk chairs on the market.
---
This product was recommended by Antti Alatalo from Smart Watches 4U
The Herman Miller Aeron chair is the king of desk chairs. The mesh back keeps me cool and the durable back keeps my posture in check. This is one of the only desk chairs I have found that I can sit in all day long.
---
This product was recommended by Matt Rowan from StartStanding
Matt had the following to say, The Steelcase Leap is a very high-end office that offers the highest level of adjustment compared to all of the other office chairs we've ever reviewed. Every surface that your body contacts is able to be adjusted to absolute perfection – as if the chair were custom-built for you. The armrests alone are adjustable in 4 independent ways: height, forward and back, side to side, and pivot. The adjustable backrest lumbar allows pinpointing support to your lower back. The adjustable seat can move forward and back as well as tilt. Overall the leap is among the highest quality you can expect in an office chair.
---
This product was recommended by Matt Rowan from StartStanding
Matt had the following to share regarding the Herman Miller Embody chair, The Embody is an office chair for those of us without a budget and looking to make a truly long term investment in their health and comfort. The Embody has become a truly iconic office chair and sought after for its ultimate combination of unique design, operation, and comfort. The design is functional and beautiful without any compromises to speak of. The adjustable seat depth allows you to extend or shorten the seat with a cool feature. The Armrests are height adjustable and can pivot inwards or outwards depending on the broadness of your shoulders. The backrest has tension to increase or decreased lumbar support with a turning of a knob This is about as good as it gets.
---
This product was recommended by Matt Rowan from StartStanding
The Modway Articulate is quite possibly the best office chair for the money due to the inclusion of all the features we look for in an office chair, regardless of price point. For the price, nothing we've seen includes so much adjustment. We frequently praise Modway chairs for their high value for money. As mentioned above height adjustable armrests are essential in an office chair. The Articulate has rounded height-adjustable armrests that allow your forearms and elbows a nice range of motion while resting. This coupled with the innovate height-adjustable backrest and seat cushion means finding a comfortable and supportive seating position is a breeze. One rather piratical feature of the Articulate is the clearly labeled controls. Often you find yourself feeling around beneath your seat trying every lever to see what it does. The Articulate levers and knobs are labeled making operating this chair as straightforward as possible. While many budget-friendly office chairs are available only in a generic black color, the Articulate is sold in 7 colors.
---
This product was recommended by Brandon Wachs from Shark Eyes
After a few hours at my desk, things can start to ache. As I spend a large part of my day sitting in a chair, I need to take care of myself, including taking care of my back. Since purchasing this model by Mellcom, I feel so much more comfortable at work. The chair doesn't just offer superior comfort. It gives a pretty good massage too. Featuring 4 vibrating modes and 40-50 degree heating mode, aches and pains are a thing of the past. An ultra-high, fully adjustable back rest, lumbar and neck support, and extendable footrest make this chair an ideal purchase for anyone who spends all day at the office. 100% recommended.
---
This product was recommended by Mark Valderrama from Aquarium Store Depot
When you work in an office and spend many hours of the day sitting at a desk, the right chair can make all the difference. Poor posture can cause all manner of complications to the back, neck, and shoulders. Furthermore, I find it difficult to focus on my work if I'm feeling discomfort. With this in mind, there are several features I look for when choosing an office chair. These include lumbar support, arm and footrests, the ability to adjust the height, and breathable materials. The Hbada Ergonomic Office Recliner incorporates all these features and more. It will support up to 250 lbs and includes a rotating headrest for added comfort. The lumbar panel is made with a breathable mesh which promotes airflow to help keep your body cool. It's an ideal choice for those looking for all-day comfort at a reasonable price and superb quality.
---
This product was recommended by Harry Morton from LowerStreet
This top-tier chair allows you to adjust everything, including more esoteric things, like the tension of eight zones of the fabric (including the important lumbar support) and the tilt and angle of the armrests. It also supports working in two profiles: one for when you are leaning forward and another for when you are leaning back and reclining.
---
This product was recommended by Jase Rodley from JaseRodley
Best budget mesh-back chair. The Furmax rests on five casters, so you can roll around your home office. You can adjust the incline and the overall height of this chair, with the armrests fixed. Then again, you can't have everything at this price. However, this chair is available in a variety of colors.
---
This product was recommended by Cody Crawford from Low Offset
I like that the lumbar support can be adjusted in height since sometimes I choose to use the little partial balance ball thing when I'm working. It feels very sturdy, not like it's going to fall apart or collapse on me. Assembly was actually very easy and it was ready to go in about 15 minutes.
---
This product was recommended by Sherry Morgan from Petsolino
Out of all that I've tried, this is my number one pick. It's very feature that really stands out for me is its ultra-adjustable headrest. It works great for me as it allows me to sit in a healthy posture which prevents any work-related injuries stress from my long hours of sitting. It also helps reduce stress in my entire body from the neck to the lumbar region. It's very comfortable for any long hour sitting.
---
This product was recommended by Tommy Gallagher from Top Mobile Banks
The IKEA Markus is a great budget office chair. Although it doesn't have a lot of different adjustments this chair is sturdy, comfortable if you sitting for long periods, has a breathable mesh back and comes with a 10-year warranty. It is available from ikea.
---
This product was recommended by Tommy Gallagher from Top Mobile Banks
I had one of these chairs a few years ago and it really is a good chair. The Steelcase Gesture is a very high-end chair. It is fully customizable with armrests that move to support your arms as you recline and a back that supposedly fits with the motion of your spine.
---
This product was recommended by Tommy Gallagher from Top Mobile Banks
The best of the three, if price is not a consideration, is the Herman Miller Celle. This chair is supremely comfy and robust. You can adjust the tilt level, height, seat depth, armrests and lumbar supports. It is available from Herman Millar.
---
This product was recommended by Leo Young from OptimizedFamily
If there is one thing I learned working from when the stay-in-place orders were in place is that a dining chair does not make a good office chair. I suffered from lower back pain, tight hips, and a sore neck and shoulders. I started looking into ergonomic chairs. They are quite pricey however, this particular ergonomic office chair from Modway does the job and fits the budget. The chair has a supportive headrest and back that moves with your body, always supporting these tiny movements. The seat is very comfortable, the seating adjustable, and it is quite durable. After sitting on this chair for hours, I can honestly say that that was the end of the stiffness I experienced. Ergonomic chairs are a good investment and luckily Modway has an affordable chair.
---
This product was recommended by Matthew Paxton from Hypernia
Comfort is one of the main qualities of an inspiring and productive workspace. I'm sure dad would love to receive the ErgoChair 2 from Autonomous to add to his work from home setup. It features a beautiful and modern design that definitely checks a lot of boxes when it comes to providing optimal comfort for those long work sessions. The headrest and armrests are fully adjustable, breathable mesh material for your back and for flexible full-body support, adjustable cushion seat positioning, and a tilt tension mechanism that will allow the user to stretch their back and shoulders with full confidence. It's really hard to find a chair of this quality that provides this level of adjustability at this price range. It's definitely an office chair that goes beyond just aesthetics and will serve dad for years to come.
---
This product was recommended by Harriet Chan from CocoFinder
This is one of the best office chairs for all-day sitting and maximum comfort. It features a backrest, recliner, tilt, swivel, and rocker & seat height adjustment mechanism. You will enjoy having the chair in your office due to its soft highest quality leather and PU leather covering the front and back respectively.
---
This product was recommended by Harriet Chan from CocoFinder
We recommend this ergonomic office chair since it is structured to conform to the body's shape and allow you to work all day. It provides support to the spine and other bones while keeping joints and tissues in a comfortable position. The chair features a high-quality elastic mesh, an adjustable backrest tension, and height-adjustable.
---
This product was recommended by Harriet Chan from CocoFinder
You will get your back supported as you sit, like upper body standing, keeping back muscles relaxed in a natural posture and relieving pain when working. The office chair gives you additional comfort with a concealed feet rest. It is designed to recline to allow users to stretch or take short naps while at work.
---
This product was recommended by Harriet Chan from CocoFinder
It is a one-of-a-kind office chair that is specifically engineered to aid in reducing the harmful effects of all-day sitting. The chair makes the perfect choice for anyone spending long hours at their desks as it features Back in Motion Technology. Even better, it can tilt for continuous lumbar support and you get a padded headrest for neck support.
---
Sohl Furniture office chair
The Sohl Furniture office chair is designed with ergonomic features to provide maximum comfort and support. The chair's high-density foam seat and backrest mold to your body for customized comfort. The chair's adjustable armrests and lumbar support help reduce strain on the shoulders and lower back. The chair's pneumatic lift system allows for easy height adjustments to accommodate different desk and user heights. The chair's durable base and smooth-rolling wheels provide stability and mobility. Assembling this chair can be tricky so don't forget to use the Sohl furniture office chair manual and save your time. Sohl Furniture office chairs are available in a variety of colors and fabrics to match any office decor.