This article showcases our top picks for the
Best Standing Reading Lamp
. We reached out to industry leaders and experts who have contributed the suggestions within this article (they have been credited for their contributions below). We are keen to hear your feedback on all of our content and our comment section is a moderated space to express your thoughts and feelings related (or not) to this article 
This list is in no particular order.
This product was recommended by John Peterson from Safe Drive Gear
It is an excellent quality lamp. The base is very heavy so it wont easily tip over which is great when there are kids in the house. You can adjust the light to just about any direction which is also a nice feature. It turns off and on via a touch sensor and also dims to different levels which is perfect. A real gem, to sum things up, buy the lamp if you want a slim/minimalist style lamp that's adjustable.
---
This product was recommended by Mark Stephenson from How to Shoe
A stylish functional metal floor lamp to meet your lighting needs especially for reading. It is east to bend and twist the lamp and get properly on your books. Long-lasting and energy-saving, the 12W LED provides 1800 lumens brightness, enough to single-handedly light your room. There are two buttons that operate and adjust both the color temperature and brightness. The 10-minute and 40-minute timer function is also a great feature for bedtime reading! Overall, an excellent product, sleek, sturdy and versatile.
---
This product was recommended by Darrian Wilkins from Kitchen Fold
The height is perfect for working in a chair, on a bench, or on a table. This is useful for me when reading since you can adjust the gooseneck arm to point the light right where you need it. I have a couch where it can be slanted and I can slightly lean on while reading. This lamp is great since I can direct the light on what I am reading despite any position I am in. My kids also use this lamp and they are happy with how useful it is for them like what I feel for this item.
---
This product was recommended by Piyushi Dhir from Help and Wellness
Brightech's floor lamp is simply amazing and reasonably priced. It stands 62.5-inches tall and has a flexible gooseneck that allows you to angle the head down or bend it to brighten your reading area. The ability to adjust the brightness of the lightbulb is also one of the features. No remote or a trillion buttons are needed, it comes with a touch sensor dimming function that can easily be adapted. It also looks so sleek and modern and is incredibly sturdy. It's the perfect addition to any living room or a bedroom.
---
This product was recommended by Matt McKnight from Humber Sport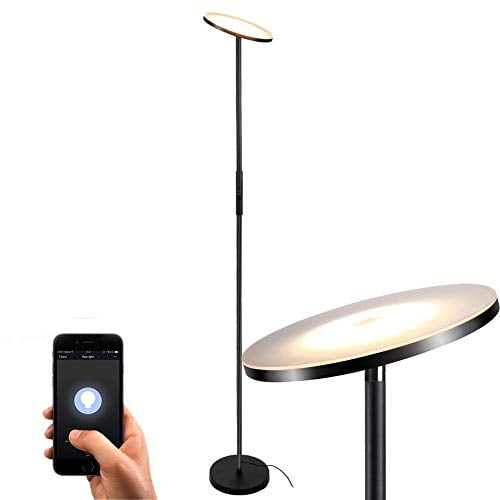 When it comes to reading lamps, we have different lighting preferences. So, choosing one with adjustable light settings is a big plus for me – and that's one reason I chose the TECKIN LED Floor Lamp. Aside from that, it's a lamp that's built and designed to last for many years. It's sturdy and durable. One thing that I also like is you can rotate it in any direction.
---