This article showcases our top picks for the Best Jura Coffee Machine For Office. We reached out to industry leaders and experts who have contributed the suggestions within this article (they have been credited for their contributions below).
We are keen to hear your feedback on all of our content and our comment section is a moderated space to express your thoughts and feelings related (or not) to this article This list is in no particular order.
This product was recommended by Chris Clark from Brew Coffee Home
WE8 is the best Jura machine for the office, with great functionalities and value. It can make 12 different drinks, covering from espresso to popular milk-based drinks such as Flat white, cappuccino, latte, and more. Everyone in the office can enjoy their favorite drink at a touch of a button, without any brewing skills required. What's more, WE8 has a larger bean hopper and water tank. Thanks to the large capacity, serving up to 30 drinks a day is not a problem. Maintenance is super easy, replace the CLEARYL Smart filter when it shows an alert on the screen, then you don't even need to descale the machine. It also allows disabling resetting and brewing customization for easier management. All of these make it the best fit for the office.
---
This product was recommended by Heather Calatrello from Shed Light Coffee
For today's office environment, we like the Jura Giga W3 Professional. There are many reasons to love this machine, but we like it because it offers many of our favorite features from the more expensive machines at a more reasonable price point (relatively speaking). The Giga W3 is incredibly straightforward to use, even for beginners, and is capable of producing 43 different specialty beverages at the touch of a button. It features a color screen and a rotary knob for easy navigation. It will even brew two different beverages at once! But our favorite feature about the Giga W3 is how incredibly simple it is to clean. Anyone who's ever used an office coffee machine before, as most of us have, knows how important it is to clean it regularly. The Giga W3 makes cleaning a snap and features self-cleaning cycles that activate at the touch of a button. This means team members or other staff may be easily taught how to run the cleaning cycles daily to keep the machine in a sanitary condition at all times. This machine from Jura is hands down a winner for any office environment, whether for use by all office employees, customers, or both!
---
This product was recommended by Ryan Jeffords from Buy Here Pay Here
When it comes to looks, efficiency, and precision, the Jura Giga 5 is undoubtedly the king. It produces the perfect cup of coffee by leveraging the power of two ceramic disc grinders and two heating systems. Additionally, the machine includes a dual spout that can be readily modified in height and width. Do you desire a cup of coffee prepared by a professional barista? The Jura Giga 5 has you covered with its innovative multi-chamber technology that flawlessly froths the milk. If you're a fan of variety, the coffee maker features a Thin Film Transistor (TFT) display and a rotary switch to assist you in preparing 12 Barista specialties. It's acceptable to criticize the Jura Giga 5's price, but its superior quality and performance cannot be overstated, which greatly astonished me.
---
This product was recommended by Yker Valerio from Bon Vivant Caffe
The Jura Giga X7 is the best machine for offices heavy-use. It can serve several cups of coffee in minutes, dialing two espresso drinks at once. It's well equipped to do so because it holds almost 23 oz of coffee distributed in two hoppers. And a water reservoir of 169 fl-oz. Beyond its impressive capacity, the Jura Giga X7 offers more than 30 drink options, it's fully programmable, and the cleaning and maintenance processes are pretty straightforward. For all these reasons, I recommend it as the best Jura coffee machine for the office.
---
This product was recommended by Marko Lazarevic from Craft Coffee Spot
The Jura E6 is a great option for smaller offices. It makes seven different drinks, has an intuitive display, and is low-maintenance. The startup is fast which is great for the mornings. The Jura E6 is quiet even with a built-in grinder and espresso maker, which produce excellent coffee. This package comes with a filter, cleaning supplies, and a milk frothing pitcher.
---
This product was recommended by Nunzio Ross from Majesty Coffee
Jura E8 Automatic Coffee Machine boasts its Pulse Extraction Process of pressing water in short bursts to bring out maximum aroma from your coffee, including small specialty ones. It also has a highly intuitive LED display that offers multiple customization options for your coffee. You can adjust the water temperature, amount, hardness, and coffee strength to cater to everyone in the office. Finally, its functions notify you when you need to unload your grounds drawer, activate the automatic cleaning mode for milk rinsing, and descaling for an uncluttered maintenance process.
---
This product was recommended by Samantha Moss from Romantific
Jura A1 is a solid alternative when it comes to cost-effectiveness without sacrificing quality. It is black and white with two hues. It has a great mixing power and is easy to clean.
---
This product was recommended by Samantha Moss from Romantific
It is the finest option in terms of user-friendliness. It's ideal for use in offices. You can make your favorite drink according to your preferences.
---
This product was recommended by Navas Magne from Appliances For Life
The D6 Automatic Coffee Machine has been one of Jura's best coffee machines for many years, and the machine is not showing any signs of slowing down. It is one of the highest-rated Jura coffee machines in the world today, and that's because the versatile coffee machine can also double as a cappuccino or espresso machine. It's also one of the easiest coffee machines to operate, thanks to the plain text display and Smart Connect App control. With customizations like adjustable water level, temperature, and coffee strength, you're in total control of how your coffee is processed. You'll also get to enjoy every bit of your coffee flavor, thanks to the pulse extraction process technology.
---
This product was recommended by Martin Mora from Loose Grown Diamond
The Jura Z8 is yet another high-end coffee maker from Jura, and it doesn't let you down when it comes to making great coffee. Furthermore, the Jura Z8's ease of use is commendable, and it could be the perfect coffee machine for you if you want. A crisp, high-resolution touchscreen colour display makes it simple to utilize the equipment. If you like to try a variety of beverages, the device also allows you to make up to 21 specialty coffee drinks.
---
This product was recommended by Martin Mora from Loose Grown Diamond
This machine grinds beans to fineness. If you're someone that is looking for a coffee maker but has limited office space, this is exactly what you can go for. A very compact and sleek model that can blend in with any kind of office setting and will produce the greatest ristretto and espresso at the tap of a button.
---
This product was recommended by Shiv Gupta from Incrementors
Jura Z6 awakens and takes control of the universe. It has a sophisticated milk system yet very simple to operate. You can make a cappuccino with drier milk foam or make your latte extra hot. At the stroke of a button, you can choose from ten various milk and froth settings. It also has the Intelligent Water System and an RFID (Radio-Frequency Identification) chip that indicates when your filter needs to be replaced. The Z6 is ideal for coffee enthusiasts with a high budget, a desire for many coffee selections, and a spacious counter.
---
This product was recommended by Brogan Renshaw from Modelers Central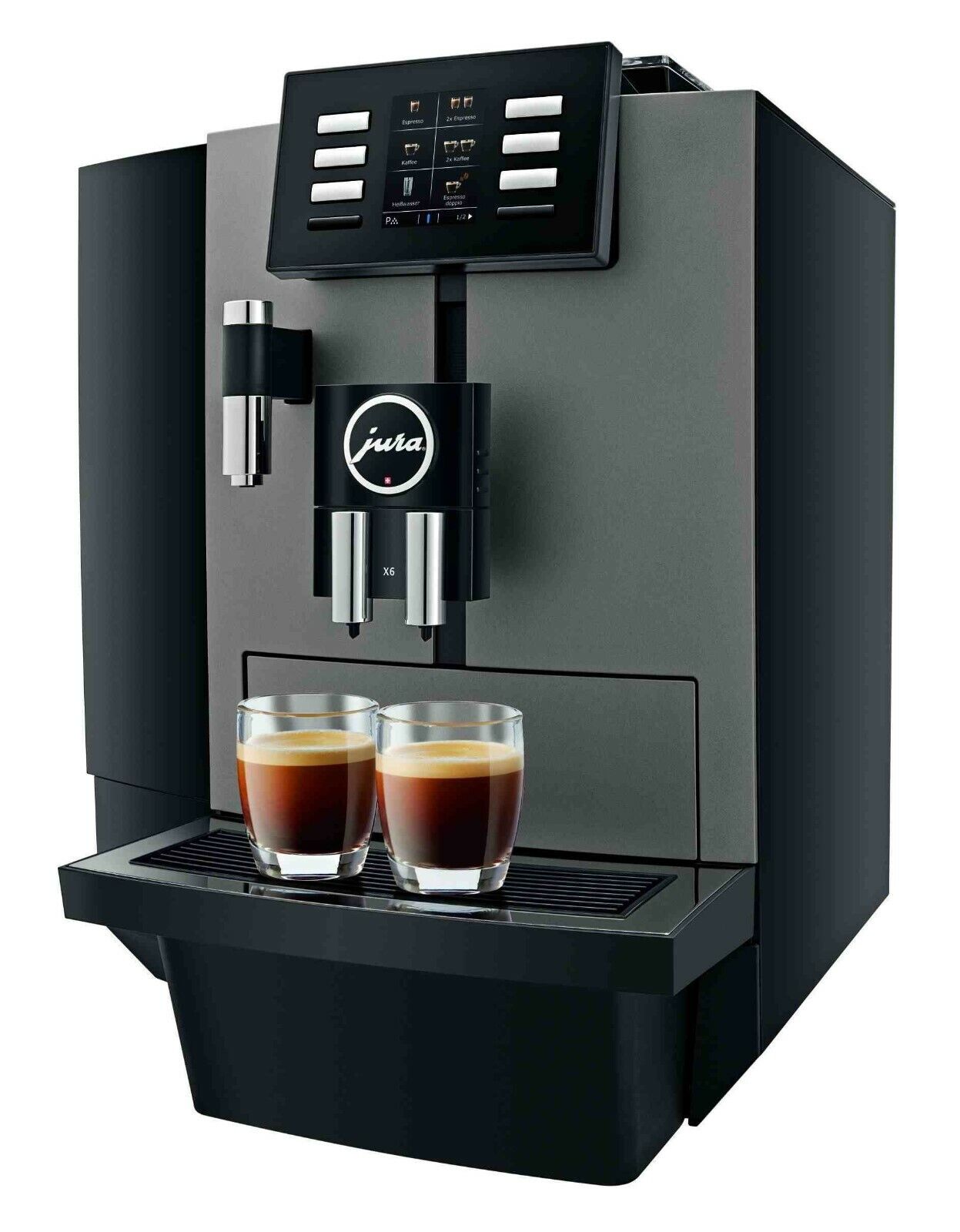 The Jura X6 is the perfect coffee machine for the office because it is designed for speed and precision, while still retaining the full aroma of the beans, allowing it to accommodate the fast-paced environment of an office setting. Its pulse extraction process is efficient in ensuring the optimum extraction time for short specialties, which is perfect for when everyone has to rush to a meeting. It can prepare tea as well. Another office-friendly feature of the Jura X6 is the clarity and ease of use of its control elements. It has easily recognizable buttons that are helpful even for first-time users.
---