This article showcases our top picks for the
Best Conference Room Webcam
. We reached out to industry leaders and experts who have contributed the suggestions within this article (they have been credited for their contributions below). We are keen to hear your feedback on all of our content and our comment section is a moderated space to express your thoughts and feelings related (or not) to this article 
This list is in no particular order.
This product was recommended by Sarah Jameson from Green Building Elements
– Ease. The C200 can be mounted on either my laptop or my monitor with little effort. Since it has a tripod threading on the bottom, I also have the option of mounting it on my desk or any tabletop. Installing a C200 is also straightforward as well. After plugging it into the USB port, I downloaded the Anker software and waited for a quick firmware update. When everything was done, the C200 was ready to go. – Awesome video quality. In online meetings, the C200's incredible resolution (up to an unbelievable 2K) really stands out. The enhancement it makes to picture and color quality are astounding. A lot more subtle details in the image are shown, and the colors pop right off the screen. – Equally awesome audio quality. In my experience, no other device can match the clarity of my voice when I use the C200. In addition, background noise is greatly decreased, and the C200's ultra-sensitive microphones can pick up my speech even when I'm speaking from about 30 feet away or at a very low volume. – Affordable price. The C200 costs less than $100, which is incredible given its high-quality specifications. Mine was a steal at $60—a true bang for your buck.
---
This product was recommended by Jacob Richard from Camera Prism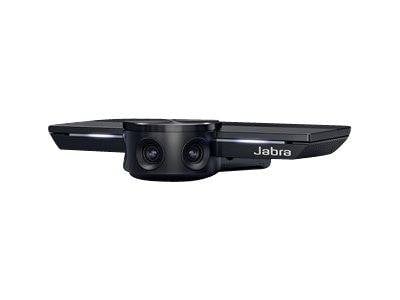 Jabra Panacast is honored to be the world's first 180° Panoramic-4K plug-and-play video solution, aims to provide any room with high-quality video. The artificial intelligence-powered zooming and panning of this video conferencing system mean it's easy to include everyone on the call, without the camera needing to move or disrupt you. The camera adjusts the lighting to supplement the automatically-generated algorithm with intelligent AI and a triple microphone array for excellent audio. The camera produces the highest-quality video calls we've ever seen. Finally, this is a costly purchase of the user's choice, but the quality is excellent, and you also get video-sync USB-C connectivity measures.
---
This product was recommended by Deepanshu Bedi from Holistapet
I like this webcam because it has full HD 1080p video resolution and a 90-degree field of view, which is great for large conference rooms. It also has integrated speakers and a microphone, so you can use it for audio conferencing as well as video. And it comes with a remote control, so you can easily adjust the camera settings during a meeting.
---
This product was recommended by Michael Montoya from The Gadgetians
If you're looking for a top-of-the-line camera to equip your conference room with, the Logitech PTZ Pro 2 is a great option. With its 1080p HD video and 10x optical zoom, this camera is sure to deliver clear, high-quality images. In addition, the PTZ Pro 2 offers three presets for pan, tilt, and zoom positions, so you can quickly and easily find the perfect angle for your meeting. This camera is designed specifically for use in conference rooms, and it offers a number of features that make it ideal for business use. It's also compatible with the most popular conferencing software platforms.
---
This product was recommended by Andrew Gonzales from BusinessLoans
Built to rotate 360 degrees, the j5create offers impressive versatility in a conference room setting. With an ultra-wide angle lens and omnidirectional microphone, this camera captures everyone in the room with HD visuals and full audio clarity.
---
This product was recommended by Michael JanBaldicana from Dream Chasers
The TOALLIN Conference Room PTZ Camera with Voice Auto-Tracking is the best choice for any meeting room. It is a 1080P Full HD webcam that has a 10X optical zoom video conference camera to help you see and hear your guests. The camera also has a voice auto-tracking feature which will follow the speaker automatically and make sure they are always in the frame. This is perfect for large conference rooms where it can be hard to find the speaker on your screen at times.
---
This product was recommended by Jim Snediker from Stock Mfg. Co.
eMeet Meeting Capsule is the most advanced webcam which has the unique ability to redesign itself according to the number of participants. It has a physical remote to operate without any specializes software and operates with USB power. The advanced features are switchable camera directions, see 360 degrees, 1080p resolution and frame relate 30fps. It is a hybrid tool that can adjust and perform dual functionality. The speaker is 10 watts and 90db. The cons of this camera are the close-up videos at 360degrees are softer.
---
This product was recommended by Nathan Walters from Best Reviews UK
The Logitech Brio is a great webcam for conference rooms. It has a 4k video capture resolution and can be mounted on the wall or on a tripod. It also has an infrared sensor that can detect when someone walks into the room and automatically turns on the camera. Using this camera will allow you to capture clear, high-quality video in low light conditions. For remote or in-person meetings, it can be used alongside the desktop software to record a meeting. The Logitech Brio is a good option for conference rooms or meetings without cords or very long distances to plug in. This webcam tested great in different platforms such as Zoom and Skype video conferencing calls. We have tried and compared the Logitech Brio with the Logitech C920 and the two cameras have noticeably similar video quality. However, the C920 is the more expensive choice. The Logitech Brio is the best option for budget-conscious customers, without sacrificing too much quality.
---
This product was recommended by Erin Zadoorian from Bubpop
The Obsbot Tiny 4K is a good option if you're a busy leader facing the camera all the time. This webcam may be mounted on a tripod or attached to an open laptop because it was designed, at least in part, with vloggers in mind. In addition, we like the H.264 video stream with SVC over a USB Type-C cable and the two microphone configurations for noise cancellation.
---
This product was recommended by Simon Bacher from Ling App
The Meeting Own 3 conference camera promotes better collaboration because it focuses its 360-degree audio on whoever is speaking while displaying a 360-degree view of the room. It is perfect for hybrid conference meetings or a combination of remote and live attendees. All conference meeting participants can sit face-to-face around the table rather than lining up on the table's one side. Place this conference camera in the middle for remote people to see live attendees around the table to give the meetings a more natural vibe.
---