This article showcases our top picks for the Best Quiet Desk Fan. We reached out to industry leaders and experts who have contributed the suggestions within this article (they have been credited for their contributions below).
We are keen to hear your feedback on all of our content and our comment section is a moderated space to express your thoughts and feelings related (or not) to this article This list is in no particular order.
This product was recommended by Candace Hoener from Neo Candle
The Fancii Small USB desk fan is small and strong, almost as strong as the strongest outdoor ceiling fans. This fan, which is little under 4 inches broad and about five inches long, can be positioned almost anywhere without ever getting in the way. Also, don't be deceived by its diminutive stature. The Fancii fan's patented twin-turbo Cyclone-Blade arrangement mostly accounts for its equal power to larger models. With this personal fan, you won't be able to cool an entire room, but you will still enjoy a strong airflow in your office.
---
This product was recommended by Craig Anderson from Appliance Analysts
The Rowenta VU2631 desk fan will be your best friend while working or studying. It runs at 38 dB(A), which is great if you want to focus without any distractions. People have even mentioned that they not only use it in their office, but also while sleeping because it's very quiet. Moreover, it has five different speeds, which makes it extremely powerful to deliver a sensation of cool air in just a few seconds. On top of that, this fan has an ergonomic handle, so you can easily move it.
---
This product was recommended by Ranee Zhang from Airgram
The Dyson Air Multiplier AM06 10-inch bladeless ring fan has everything you desire in a table fan. You can adjust its speed using a magnetic remote that attaches to the fan. It also has a timer that you can set at intervals ranging from 15 minutes to nine hours.
---
This product was recommended by Admir Salcinovic from PriceListo
A six-inch fan that fits nicely on your desk and plugs into any USB 3.0 port is all you need for a low-cost alternative. With two distinct speeds and three accent color options, the Aluan Desk Fan is a great low-cost pick.
---
This product was recommended by Harry DiFrancesco from Carda Health
The Vornado Flippi V6 Personal Air Circulator Fan is an excellent compact fan for your desk. This brand makes a variety of models, but this particular one is perfect for small spaces. It offers two speeds, comes with an adjustable tilt head and manual swivel base, and is available in multiple colors. In addition to looking chic, it's also quiet, making it perfect for the office.
---
This product was recommended by Danny Peng from Zhengxin Group
The Honeywell HT-900 TurboForce is not too big or too small. It rotates 90 degrees and has three settings for speed. Black, wavy grilles and a chunky design make this rotary phone table perfect for offices.
---
This product was recommended by Liam John from One Lucky Couple
This model does everything it needs to. It has 4 speed settings up to a maximum of 3,800RPM, which provides plenty of airflow. The fan has a stable base with 4 rubber pads to reduce vibration. It's useful considering it's not very heavy and reaches high speeds.
---
This product was recommended by Maximilian Wühr from FINN
This desktop fan is so much more than its sleek retro copper design. It offers three quiet airspeed settings and specialized Vortex air circulation that cools down air quickly. This 6-inch fan is small but mighty in small and medium-sized office spaces!
---
This product was recommended by Lindsey Hyland from Urban Organic Yield
The HOLMES Heritage 4-Inch Mini USB Desk Fan is the best quiet desk fan because it features a whisper-quiet, ultra-low power motor that runs quietly so you can work in peace. This eco-friendly fan has an adjustable tilt and sturdy base for reliable stability. It also offers 2-speed settings to customize your cooling experience. The stylish brushed copper finish will elevate any space while the convenient USB-connected operation makes powering up quick and easy. With its small size and lightweight design, this fan is perfect for small desks or countertops where noise may be an issue.
---
This product was recommended by Henffrey Muthama from LedAsk
We highly recommend Gaiatop USB Desk Fan, available on Amazon.com, for anyone looking for the best quiet desk fan. This fan is designed to be whisper quiet while still providing strong air circulation. It features three adjustable speeds, and is made with an eco-friendly ABS material. The low noise and low power consumption make it the perfect choice for any home or office.
---
This product was recommended by Mark Joseph from Parental Queries
The Dr. Prepare Tower Fan is perfect for overworked individuals who need a quiet yet powerful desk fan. With its sleek design and whisper-quiet operation, this fan is ideal for use in your home office or while watching TV. Its oscillation feature ensures that the air is evenly distributed over a wide area, ensuring that everyone in the room is comfortable. The multi-speed settings, timer and sleep mode, make it easy to adjust the fan to your preferred settings. This efficient, cost-effective fan is the perfect addition to any home or office. With its slim profile and elegant design, it is sure to be a welcome sight in any space. Whether you want to cool down your workspace or enjoy a gentle breeze, the Dr. Prepare Tower Fan is the perfect solution.
---
This product was recommended by Sam Bellantoni from HotelGods
WOOZOO deep-pitch fan blades maximize airflow while producing the least amount of noise. Better airflow control and exceptional delivery precision are made possible by the spiral grid fan design. Adapt the tempo to your feelings. Simply press a button to switch between a gentle breeze to cool you off and a forceful jet of air to fill the entire space.
---
This product was recommended by Rahul Vij from Webspero Solutions
There are offices which might not have any air conditioning, which makes it frustrating for the employees to survive during the hot summer days. But not anymore! The best quality tower desk fan from Lasko is worth all the hype. It is one of the top-selling desk fans in the market which is more praise than any other table fans out there. This platinum desktop tower is exactly like a mini oscillating fan. Top section of the fan oscillates back and forth and can even be switched off to get cooling from two directions. On top of that, it is very quiet and doesn't even take too much of the space on the desk.
---
This product was recommended by Fran M Haasch from Fran Haasch Law Group
The smart devil is the perfect desk fan that connects and charges via USB directly to your laptop and computer. There as 3 settings for air power, meaning you can pick the right one for you, and on top of this its small size is ergonomic and easy to move with you wherever you might be, meaning you can have something perfect for the office desk, a small meeting room, and even at home – it really won't take up to much space, and the quiet noise means you will never feel distracted while busy at work, but you definitely be feeling a bit cooler and fresher.
---
This product was recommended by Martin Gasparian from Maison Law
Its design is Light and compact, meaning it isn't stuck to one spot. The small Sweetfull portable fan weighs Just 10oz and so you could easily put it on anywhere. It also boasts a super quiet performance with a noise level that is less than 50 dB. Perfect fan for home or office. The 2 features I particularly like about this fan are firstly the design – its modern wooden-look exterior just looks more fitting in an office space, and as well, it offers 360-degree rotation meaning it can benefit more than just yourself – perfect for a meeting, or a small desk share amongst colleagues.
---
This product was recommended by Simon Bacher from Ling App
The Ozeri Brezza III Dual Oscillating High Velocity Desk Fan is a powerful and quiet fan that is perfect for use on a desk. It has a customizable airflow with 3 speeds settings, and it has a 90-degree oscillation feature that allows you to direct the airflow where you need it.
---
This product was recommended by Kevin Wang from Inyouths LED Mirrors
This 6-inch USB desk fan is the perfect choice for those who need a powerful and quiet fan. The high-quality copper motor provides strong wind power while also producing minimal noise, making it ideal for office or home use. It is equipped with three adjustable speed levels to provide more options and convenience. Furthermore, its small size makes it easy to carry and store. This USB desk fan is reliable, durable, and easy to operate.
---
This product was recommended by Kevin Wang from Inyouths LED Mirrors
This 6" Small USB Desk Fan is a built-in new copper-made brushless motor that is stronger and has a longer lifespan than the regular motor, which can support the blades running at high speed to produce powerful wind. Unique blade design can maximize air movement, and you can enjoy the cooling airflow 10 ft away. Moreover, It has a broad base and four rubbers on the bottom of the pedestal, which keeps the fan firmly in place and doesn't slip over when working even at high speed. In addition, the fan operates at a low noise level, perfect for office and bedtime use.
---
This product was recommended by Nathan Walters from Best Reviews UK
This Let'me Desk Fan is a great choice for anyone looking for a small, quiet and effective cooling solution. The fan is bladeless, making it safe to use around small children and pets, and it runs quietly so it won't disturb you while you're working or sleeping. It is battery-operated, so you can take it with you wherever you go. Additionally, the fan has five colours of lights that can be adjusted to your liking with touch control, making it a great decorative addition to any room. It is also rechargeable, so you won't need to keep buying batteries. This fan is perfect for any bedroom, office, or home.
---
This product was recommended by Nathan Walters from Best Reviews UK
The BESKAR USB Small Desk Fan is an excellent choice for anyone looking for a reliable and powerful desk fan. This 6-inch fan has three speeds and strong airflow, making it perfect for cooling down any room quickly and efficiently. It also features quiet operation and 360° rotation, allowing you to direct the airflow in any direction you choose. Additionally, the 3.9 ft cord makes it easy to move the fan around and find the perfect spot for it. With its small and portable design, this fan is perfect for home, office, and bedroom use.
---
This product was recommended by Melissa Terry from VEM Tooling
If you're looking for a low-noise, fully-featured desk fan, consider the NewGod Rechargeable Desk Fan. It can be charged through USB, but it also contains a built-in battery that may be used again. When you're not at your work, you can easily transport it with you. There are 4 different speeds available, with a maximum volume of 45dB. This makes it the least noisy option here, on par with the noise of a regular fridge. Because of the fan's automated rotation setting, the air is easily distributed throughout the space. You have much control over the orientation because you can manually adjust it horizontally and vertically.
---
This product was recommended by Melissa Terry from VEM Tooling
The Black+Decker mini-tower desk fan is the only model with a bladed impeller on this list. In contrast to axial fans, most tower fans employ impellers with blades to create airflow. This results in a reduction in size, weight, and noise. This 14-inch small tower fan is the tallest option available. In comparison to small USB fans, it moves a lot of air. Two speeds are its only options. Unfortunately, the specifications do not include any kind of noise rating. Despite its high-quality airflow, many reviewers were impressed by how quiet this fan is.
---
This product was recommended by Irene Graham from Spylix
This fan is superior to others because of its versatility; it may be clipped onto your desk or computer. As a bonus, it can be laid flat on a table without toppling over. The airflow can be precisely aimed because the head can rotate 360 degrees in horizontal and vertical planes. Automatic oscillation is not a part of this device. The maximum RPM on the highest setting is over 3800. Users have remarked that it is quiet, although no decibel rating is provided.
---
This product was recommended by Matt Kerr from Appliance Geeked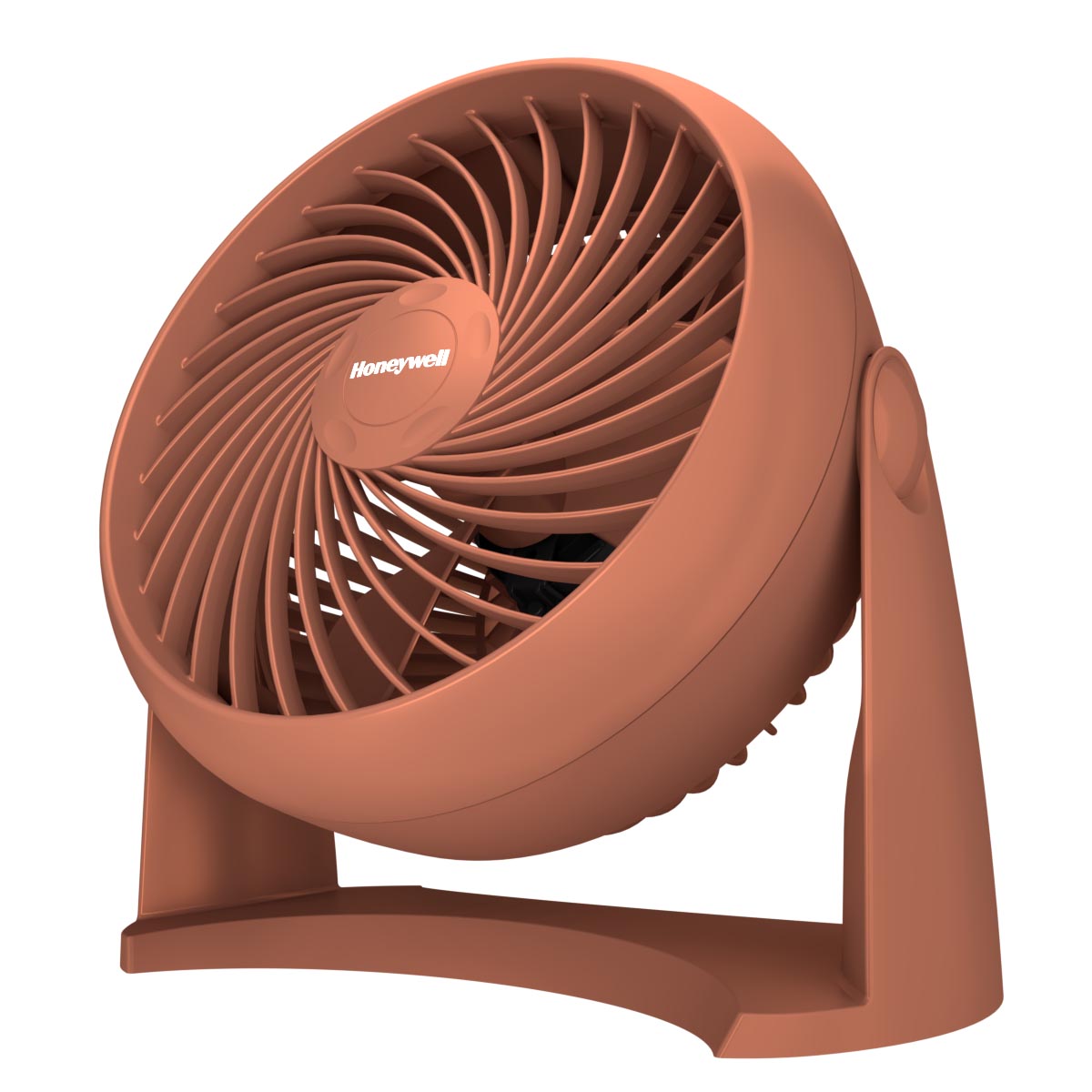 The Honeywell TurboForce HT-904 Air Circulator Fan cools while operating quietly. It's tiny enough to be a table or desk fan, yet powerful enough to offer cooling in small to medium-sized spaces. With three speed settings and a pivoting/adjustable fan head that pivots 90 degrees, you'll always be comfy and cool!
---