This article showcases our top picks for the
Best Quiet Dishwasher in the UK
. We reached out to industry leaders and experts who have contributed the suggestions within this article (they have been credited for their contributions below). We are keen to hear your feedback on all of our content and our comment section is a moderated space to express your thoughts and feelings related (or not) to this article 
This list is in no particular order.
This product was recommended by Shelly from Easy Kitchen Guide
The COMFEE' LED Dishwasher is perfect for busy families, as it offers an efficient 6.5 liters per cycle cleaning and a 47 dB sound level- making it easier to manage with less noise. With its delay start function, you can choose when the dishwasher will start up- whether it's during your busiest hours or during off-peak power rates. Its lower water consumption and energy saving gives you peace of mind while ensuring clean dishes every time. Additionally, the 2-year manufacturer's warranty ensures that if anything goes wrong, you're covered.
---
This product was recommended by Carly Campbell from Mommy on Purpose
If we're talking about quiet dishwashers, we must mention The Bosch Serie 6 SMV68ND00G. This is the one I've been using, and next to all the noise in the house that the kids make, I at least want my appliances to run quietly. It's the best one for me because it offers superior cleaning performance, improved water savings, and quiet operation. With its use of the latest technology and its emphasis on affordability, it has been a game-changer in the dishwasher market. With this dishwasher, I can select the Silence Program for a completely quiet dishwashing experience. The VarioSpeed Plus feature also allows me to reduce my wash time to as little as 30 minutes while still getting a powerful cleaning. Plus, I can enjoy the flexibility of using half loads with Flexible baskets. The dishwasher has a large capacity of 14 place settings, which can hold dishes of all sizes, so I never have to worry about not having enough space for all my dishes. Really, this dishwasher does it all!
---
This product was recommended by Gulshan Hajara Banu from Pest Keen
This dishwasher is perfect for small kitchens, easy to fit anywhere. With a capacity of 5.7 liters, it's great for couples or small families. You can adjust the six-wash programs to suit your needs, and the adjustable basket height lets you fit larger items. It's also energy efficient with an A+ rating and one of the quietest on the market with a noise level of only 52 decibels. It provides much less noise than typical dishwashers on the market. Plus, it features a child lock for safety and a delayed start function to save energy and water.
---
This product was recommended by Derrick Hathaway from VEM Medical
Inches are used to describe this massive stainless steel dishwasher. The total mass of a Bosch SKS62E32EU is 93 pounds. The start time can be delayed for up to 24 hours, and a detergent dispenser is included. Additionally, a full-size, stainless steel, high-rise tub may be installed completely flush.. The door's ability to lock itself automatically is a nice bonus. At only 49 decibels, it has one of the lowest noise levels of any dishwasher.
---
This product was recommended by Derrick Hathaway from VEM Medical
It's a Russell Hobbs dishwasher from 2023 and quite silent. It's remarkably quiet for a dishwasher. Interiorly, it's made of stainless steel, and it can fit six dinner plates. In addition to the standard wash cycle and five additional rinse options (All in 1, Heavy, Normal, Light, Rinse, and Fast), there are also six more wash cycle options. The indicator lights up when the rinse aid needs to be refilled. Error codes are shown on the error alarm. The user can schedule operations to begin later, thanks to the time delay function (up to 24 hours). The machine can function silently if the user selects the silent mode. The decibel reading is 49. This dishwasher's 49 dBa level is sufficient.
---
This product was recommended by Derrick Hathaway from VEM Medical
This Hisense built-in dishwasher can accommodate 16 place settings, making it perfect for big or active families. The dishwasher's removable third rack and height-adjustable baskets make it possible to wash even the largest and most unwieldy dishes in a single cycle. The dishwasher's several settings make quick work of even the dirtiest loads. In most cases, the automatic program works wonderfully. The crystal glasses cycle is ideal if you have a large quantity of glassware.
---
This product was recommended by Mark Joseph from Parental Queries
The EdgeStar DWP62SV 6 Place Setting Energy Star Rated Portable Countertop Dishwasher is ideal for small kitchens, apartments, dorm rooms or bar areas. With a 6-place setting capacity and energy star rating, this dishwasher offers the most efficient cleaning cycle performance without compromising power. It features a stainless steel interior and a delay start option, allowing you to set the dishwasher to run later. It also has an adjustable top rack, a two-position lower rack for easy loading, and a LED display showing the progress of your laundry cycle. The noise level is surprisingly low at 52 dBA, making it one of the quietest dishwashers on the market.
---
This product was recommended by Jakob Miller from Barbecue Pals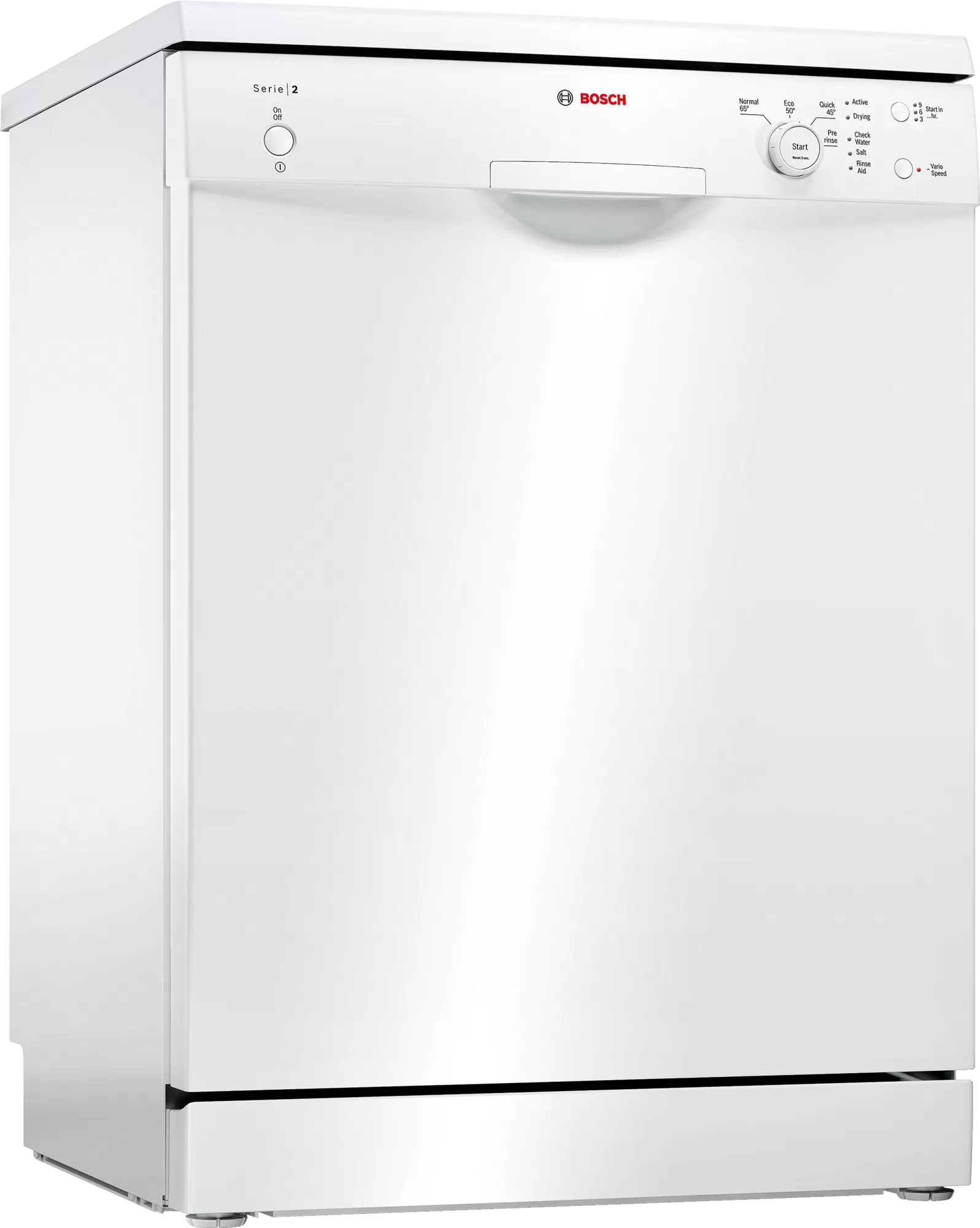 One of the best quiet dishwashers I have come across is the Bosch Serie 2 SMS24AW01G Full-size Dishwasher. This dishwasher is incredibly quiet, with a noise level of only 50 decibels. It also has a variety of wash programs including a Quick Wash option for those in a hurry. The dishwasher also has a spacious interior that can hold up to 12 place settings, making it perfect for hosting large BBQs.
---
This product was recommended by Jen Stark from Happy DIY Home
This dishwasher is a great option if you have limited space. It has an A++ energy rating, a low noise level of only 47db(A) and flexible baskets and shelves that can be adjusted to fit any dinnerware.
---