This article showcases our top picks for the
Best Mobile Office Bag
. We reached out to industry leaders and experts who have contributed the suggestions within this article (they have been credited for their contributions below). We are keen to hear your feedback on all of our content and our comment section is a moderated space to express your thoughts and feelings related (or not) to this article 
This list is in no particular order.
This product was recommended by Robert Banks from MrStocks
This mobile office bag is made out of a really durable poly nylon blend. It truly resists dirt oil and just helps keep that new look for a lot longer. The bag has reinforced areas behind the wheel so you can go up the curb without worrying about damaging the bag. It has an easy access zipper pocket with an organizational panel which I find really nice. You can organize your things pretty easily in these. This bag is like taking your office with you with ease.
---
This product was recommended by Lynda Le from Polish Perfect
This mobile office bag has several pockets for your business needs. Its middle gusset has a padded compartment dedicated for laptops of up to 15.6". The front pocket has a stylish hardware closure with the Samsonite logo engraved in it. The wheels are made of polyurethane with ball bearings to lessen frictional resistance for smooth rolling. The retractable handle offers easy maneuverability.
---
This product was recommended by Stephen Curry from CocoSign
Get yourself this mobile office bag for all your wheeled business deals. You can carry up to two different sized computers, such as 15.6" and 17" screen laptops, and the bag is compatible with most tablets. It is premium constructed with a 1680D polyester exterior, a fully lined interior, a rear exterior trolley strap, and sturdy bottom molded feet. On the front exterior are a full-length zipper pocket, hidden zippered stash pocket, double U-shaped zip-down gusseted pockets, and a zippered pocket with protective soft brush polyester. Its main compartment has a padded tablet pocket, open-top accessory pockets, secure garment straps, and an organizer holding several business essentials. Even better, it comes with top and bottom grab handles, dual in-line skate wheels, and a sturdy, retractable trolley handle to offer different carrying options.
---
This product was recommended by Jeff Mains from Champion Leadership Group LLC
I really appreciate this one because it effortlessly fits in any airline overhead bin compartments and satisfies most airlines carry on size criteria. It includes spacious pockets that allow distinct space for your 17.3" laptop, tablets, documents, pens, purse, notes, garments and basically all your belongings. Moreover, the padded laptop compartment gives complete security for your laptop from unintentional shocks and stresses.* Its push-button telescopic lever and quality silent wheels provide for even more comfortable travel.
---
This product was recommended by Krista Haws from Dripped Coffee
Designed keeping the needs of an executive professional in mind, the Samsonite Business Travel bag is compact, stylish, and has room for all your travel essentials. There are a number of pockets that neatly organize all your accessories and stationeries so you'll never have to worry where that odd USB cable went. It's made to easily fit virtually all laptops which is a great bonus and the reliable and durable wheels are confidence-inspiring.
---
This product was recommended by Sam Santa from Zeitholz
What I absolutely love about this travel bag is the sheer amount of space it has inside. While most other bags only have a sleeve for the standard 15.6-inch screen laptops, this one has an additional compartment for bigger laptops, and of course, tablets too, ensuring that all your gadgets are well padded and secure. And since the bag is pretty lightweight itself, it makes traveling an absolute breeze
---
This product was recommended by Demi Yilmaz from Colonist
A well-designed travel bag by Mobile Edge, this one easily accommodates laptops of big and small sizes and has a number of sections to keep your files and accessories neatly organized. The lifetime warranty definitely adds to the perks but isn't a huge surprise seeing how well-built and durable this bag truly is.
---
This product was recommended by Jerry Ford from 4WD Life
My search for a travel bag that houses bigger laptops eventually led me to this one from Solo New York and I've never looked back since. With plenty of padding, separate file compartments, and a sleek and stylish design, this mobile bag has easily become an all-time favorite. All my gadgets, books, accessories, and numerous paraphernalia fit comfortably into this bag to ensure that I'm never missing out on anything.
---
This product was recommended by Chris Thompson from Backdoor Survival
After using a number of different office bags, I finally settled with AirTraveler for the impressive number of compartments it houses. There's more than enough space in there for all your documents, portable devices, laptop, accessories, and various other gadgets and books. The best part is that it's sufficiently lightweight without compromising on durability and the wheels have always left me with a smooth experience.
---
This product was recommended by Suzanne Bucknam from The Montessori-Minded Mom
From its ergonomic design to its multi-directional spinning wheels, this stylish executive bag effortlessly secures all your essential devices and travel accessories in one place. The water-resistant material is a huge perk so you never have to worry about your gadgets getting damaged and the lockable zippers keep everything safe and secure.
---
This product was recommended by Riley Beam from Douglas R. Beam, P.A.
Solid build quality and loads of extra space are two things that you can't skip out on when it comes to choosing the best executive bag which is exactly where Alpine Swiss' Rolling Laptop Briefcase shines. The middle compartment has more than enough space to effortlessly fit my laptop, important documents, and legal-seized files which it neatly organizes. The rest of the bag has a number of pockets for everything else that one would need for their travels from additional devices to portable chargers and the like. The wheels are well-designed, roll smoothly, and are sturdy enough to effortlessly handle the weight of your bag.
---
This product was recommended by Hitesh Patel from RRP Jewellers
Made out of durable polyester material with the dimensions 14.75H x 17L x 8.75W.The sturdy laptop pocket can accommodate a 17.3-inch laptop, while the front zipper compartment and organiser area can accommodate a variety of documents, booklets, tools, and other business essentials. Whenever the rollers aren't perfect for travelling up the stairs the of an aeroplane, it includes a secret push-button telescopic grip system that is accompanied by comfortable handles
---
This product was recommended by Hitesh Patel from RRP Jewellers
On the go bag for frequent travellers. With the dimensions 16 x 15.5 x 9.5-inch it makes it easier to fit under your seat and makes it easy to access it. It only weighs around 4 pounds making it very travel-friendly. It has a rapid and effortless spinning system, as well as a collapsible grip for easier mobility. The primary pocket is adequately secured by the hardshell polypropylene structure, which can handle up to a 15-inch computer.
---
This product was recommended by Hitesh Patel from RRP Jewellers
A high quality bag with duraguard coating. This bag is well worth the price and a must have for any one looking for a mobile office bag.During use, the innovative dynamic ranging extended grip minimises any swaying. The increased, isolated ball-bearing inline skater rollers make a reliable roll while also increasing endurance. Another significant advantage is the presence of an outside USB connector that links to an independently bought power source kept in a designated inside pouch RFID security is also included in the 7.5-pound suitcase, that serves to protect bank cards and travel documents against identity fraud.
---
This product was recommended by Mark Pierce from Cloud Peak Law Group
It's the right size for a laptop and tablet, with room for files and computer accessories too. Spacious enough for a 15" laptop, the interior features four pockets and a card pocket. Two exterior pockets make it easy to stay organized. The canvas is water-resistant. The nylon interior is also water-resistant, making it easy to clean.
---
This product was recommended by Logan Mallory from Motivosity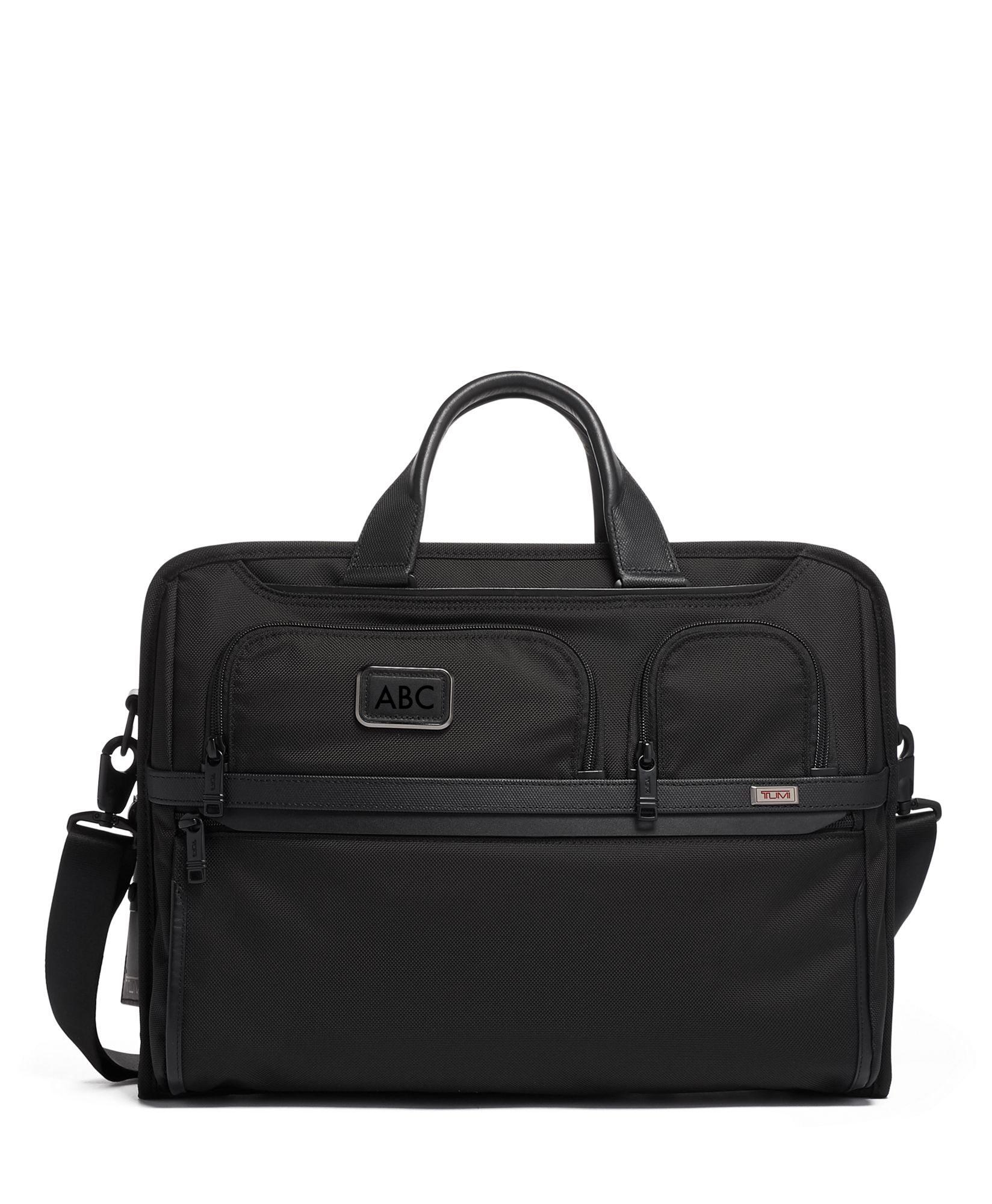 This slim, well-organized brief is perfect for commuters, students, and frequent business travelers alike. Features include a padded laptop compartment that fits up to 17 screens, a padded tablet pocket, and a magnetic slip pocket that provides quick access to the items you use most.
---
This product was recommended by Logan Mallory from Motivosity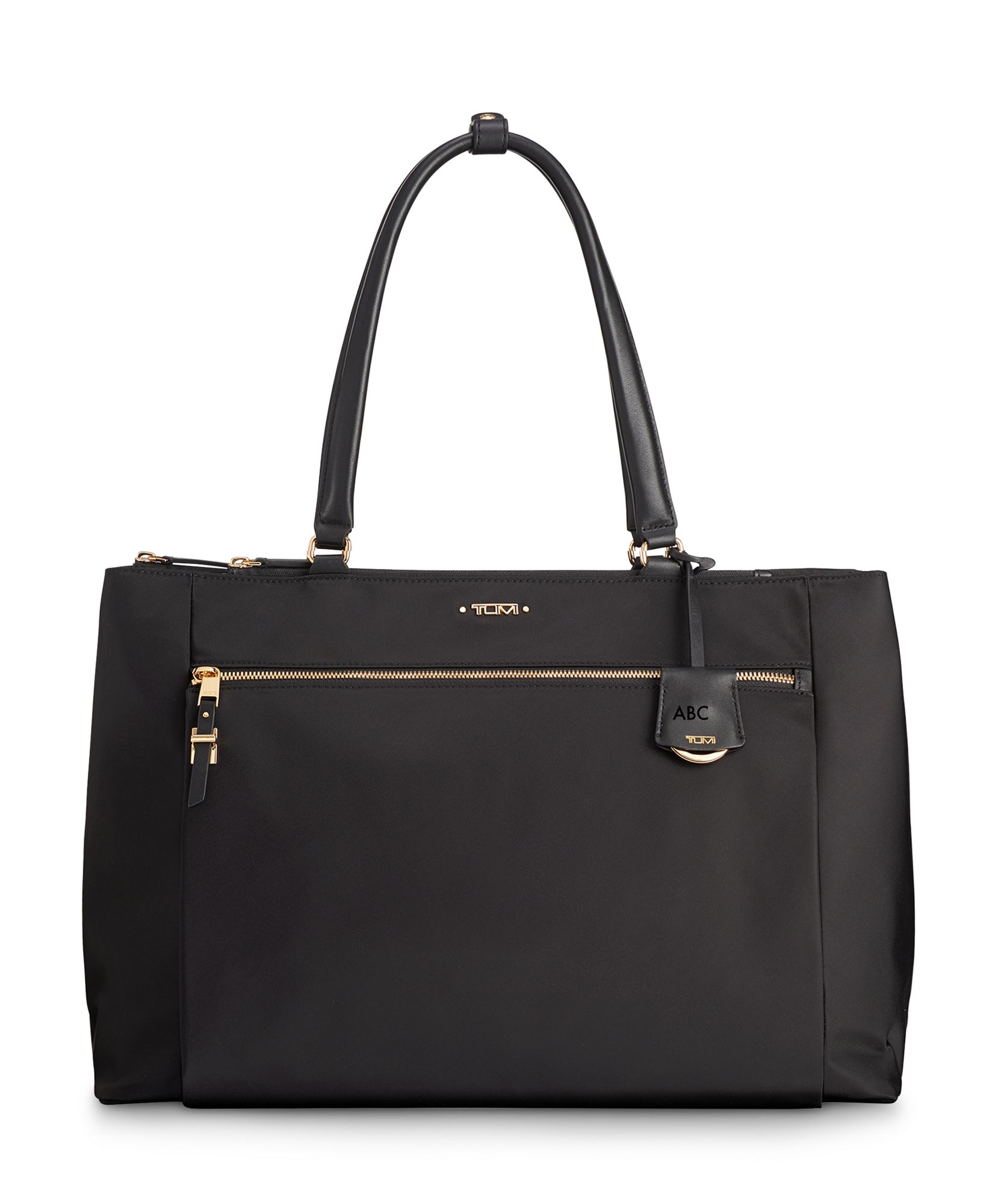 Made with three compartments, perfectly proportioned to hold work documents and your laptop, and designed with a wealth of pockets to keep your essentials organized and secure. The purposeful, practical design that doesn't compromise on style.
---